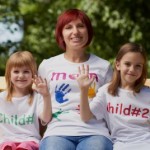 Mothers always seem to have their hands full. If you are a new mom, you know that things can get very difficult and sometimes a 24 hour day seems just too short. The problem usually is that we tend to do everything ourselves and sometimes forget that there are certain household duties that can be delegated.
Below are some tips that will help you go from mom to manager and thereby run your household better with contribution from every member.
Infant at home – If you are brand new mother and have an infant at home that is taking up almost all your time, it will work well to look at avenues for help. Hiring help for a year or so could do very well. This will allow you to focus on the baby while the hired help can look into matters like cooking and cleaning. Part time help will help you keep your budget in control and yet be able to take a breather. Most mothers will contemplate hiring a nanny to take care of the child, while they do the other chores of the house, but not only are nannies more expensive, the child too does much better with the mother herself. In case you cannot hire anyone, ask your husband to pitch in a bit. Calling your own mom for a short while will also be a huge relief. So do not be ashamed to bring in all the help you can.
Toddlers – Now is the time that the kids are running here and there and you need to be like an octopus with eight arms. Thankfully, these kids will play by themselves at this age.  So letting the child play with some toys in the play pen while you go about doing the household chores works to a large extent. At this stage you can have someone come in once a week to do your chopping and laundry and that should be enough help.
School going kids – Now the kids have grown up and you can begin to delegate their jobs to them. If the children are preschoolers, small things like picking up their toys after they have played with it, throwing their clothes into the washing bin, etc can easily be done. If the kids are a little older, you could ask them to lay out the table, help you pick up the food, tidy their room and so on. If the kids are all grown up then their duties can be extended to cooking, washing the car, cleaning the house, gardening, taking care of the pet, etc.
The idea is to simply learn the art of delegating instead of taking all the responsibility on your own shoulders. A mother is a human being too and you should not push yourself too hard in order to cater to the needs of the house. Learn to delegate so that you are able to do your bit and yet have some time on your hands to keep your sanity.