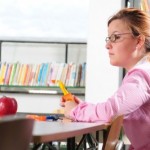 Taking a break from work to raise your kids is mostly a viable option for many moms. However, once the situation is back in control and the children can do well without having the mother with them at all given times and its time to go back to work that the problem arises. Moving back to a working mom is not very easy. There are several aspects that have to be adjusted not only at the child's front but also your own habits.
Below are a few tips that will help you go from a stay at home mom to a working one with least amount of bother:
Prepare the kids – Once you decide to get back to work, the first step is to prepare the kids on this front. If you are going back to a full time 9 to 5 job, let the kids know that they may not see mommy around the house at all given times, but she will be back once her work at the office is over. Children should not feel abandoned when you return to work. Just a few talk sessions will assure the child that you are not taking away from the kids love or time.
Prepare for the kids – Another important task that needs to be done when you go back to working is ensure that the kids are well looked after and safe while you are at work. In case the child is too small, organize a babysitter or caregiver to look after the baby's needs while you are at work. If the children are older you could have them stay at a day school or crèche while you are at work. The bottom line being that the children need to be catered too during the time that you are working.
Prepare yourself – When getting back to work, you will need to pull up your socks in more than one way. So right from finding the proper work clothes to getting a work attitude, you will need to look into it all. Remember, now that you are getting back to work you will have extra responsibilities and unless you learn to organize your day well and find the energy too keep up with the added load, things are not going to work well. This preparation needs to be both mental and physical since you will need all your abilities to get back into the groove.
Getting back to work is not a one day process and you must keep in mind that some problems are bound to arise initially. So even if you find a few issues bothering you, do not lose hope. Develop a time table that allows you to keep on top of things and stick with it even if you find it difficult initially. Within a few weeks the children as well as the rest of the household will fall into place. So keep the tips listed above in mind and go back to work prepared to conquer the situation.
ps