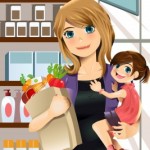 The Food Stamp program provides monthly funds for families to purchase groceries.
Apply for food stamp benefits online at Georgia COMPASS.
After you apply, the Division of Family and Children Services will schedule your telephone interview. You may be asked to provide proof of identity, citizenship or immigration status, Social Security numbers for those requesting assistance, and proof of household income.
If you have little or no income, you may be eligible to receive Food Stamp benefits within 7 days. Otherwise, if you are determined eligible for benefits, you will receive these within 30 days. Food Stamp benefits are issued on Electronic Benefit Transfer (EBT) card, which can be used at EBT approved food retailers.
Food Banks in Georgia
Metro Atlanta & North Georgia
Atlanta Community Food Bank
732 Joseph Lowery Blvd. N.W.
Atlanta, Georgia 30318
Phone: 404/892-9822
Fax: 404/892-4026
www.acfb.org
East-Central Georgia
Golden Harvest Food Bank
3310 Commerce Drive
Augusta, Georgia 30909-4417
Phone: 706/736-1199
Fax: 706/736-1375
www.goldenharvest.org
West- Central Georgia
Feeding the Valley
5928 Coca-Cola Blvd.
Columbus, Georgia 31909-5531
Phone: 706/561-4755
Fax: 706/561-0896
www.feedingthevalley.org
Middle Georgia
Middle Georgia Community Food Bank
4490 Ocmulgee East Blvd
Macon, Georgia, 31217
Phone: 478/742-3958
Fax: 478/742-8735
www.mgcfb.org
Coastal Georgia
America's Second Harvest of Coastal Georgia
2501 President Street
Savannah, Georgia 31404
Phone: 912/236-6750
Fax: 912/231-9776
www.helpendhunger.org
South Georgia
Second Harvest of S. Georgia
1411 Harbin Circle
Valdosta, Georgia 31601
Phone: 888-453-4143
Fax: 229-244-3587
feedingsga.org
Northeast Georgia
Food Bank of Northeast Georgia
861 Newton Bridge Road
PO Box 48857
Athens, Georgia 30604-8857
Phone: 706/354-8191
Fax: 706/354-8666
www.foodbanknega.org