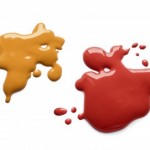 Stains can be an eye-sore irrespective of whether they are on clothes, on the flooring or even on the utensils. They look ugly and give out an unhygienic vibe, which is why many of us will leave no stone unturned in order to rid ourselves of these stains.
When looking for stain removers, the chemical section is a hot favorite. The deeper the stain, the more toxic the chemical that we pick out! Needless to say, this spells doom for the environment which is already facing several hardships. So, the next time you find yourself looking a stain, do consider the natural options before jumping on to the chemical bandwagon.
Let's look at how certain stains can be removed by using simple natural products that are commonly found in every household: 
Ink – Now that's a tough stain to fight and most of us are thankful that computers and cell phones have reduced our need for pens drastically. An ink stain is not only almost permanent but also is very difficult to camouflage. When looking to get rid of an ink stain a great natural cleaner is a combination of water, cream of tartar and lemon juice. If the stain is fresh, you will be able to remove it completely and if the stain has set in, this combination will work just as well as any other chemical cleaner would.
Oil – Another very potent stain comes from oil. Once the blotch has settled it tends to attract all the more dirt particles making the stain look darker with passing time. Thankfully it helps to rub white chalk into the stain before laundering it and a simple wash will help to remove the stain. The chalk absorbs the oil and allows you to rid the fabric of the stain.
Coffee – This one is brown, ugly and not very easy to remove. Coffee with stain anything and right from fabric, to the coffee pot to the coffee cup to even the floor, nothing holds up against coffee. When looking to remove a coffee stain try vinegar and moist salt since both of this work wonderfully in dulling a coffee stain.
Shoe polish – How often have you marked your pants with shoe polish or even your socks and sometimes even more precious things. Shoe polish stains are an eyesore and the more one rubs them the deeper the stain starts to get. A great natural way to remove a shoe polish stain is to rub the area with the inside of banana peel.
Water stains – Yes water does stain too and many of us have utensils to show for this. When looking to get rid of water stains, use some toothpaste to rub the area and then clean it off with a wet sponge. The water stain is gone and a nice sparkle is also lent to the region.
Cleaning stains using natural products is not difficult at all. Just learning which product will help to eliminate the stain is all that one needs to know.
ps