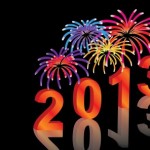 It is mid December and most of us are almost done with our Christmas shopping. We long ago planned where the Christmas get together will be, and where we will usher in the New Year. While all these plans are great, there is a certain amount of planning that must be given to the coming year too. If we keep some tips in mind we will be able to organize the year ahead in a better way and make sure it goes along smoothly.
Some tips on how to ready yourself for the New Year:
Get a New Calendar – Yes, most of us have computers and cell phones today and so the paper calendar seems to have become redundant. However, it does help to have one in the house. So get a good new calendar that has big blocks for each date and allows you to pen down stuff. It will help to place this calendar at a place where you get to see it easily. These paper calendars are very helpful in penning down your schedule and also organizing the days, weeks and even months – a great overview.
Mark important reminders – Once the year comes to an end, it is time to mark the important days of the next year. Yes birthdays and anniversaries are important but then so are dates when you need to see the doctor, file your taxes, etc. Mark all these important dates on the calendar and in your computer so that you are reminded in time. With the important reminders set, you will have better control in the coming year and will be able to manage your time properly.
Financial planning – While the fiscal year will change after a few months, it is important to sort out your finances once the year comes to an end. Go through the plans you have followed in the previous year and review them. Decide how much you want to save in the coming year and how you will do it. Mark the mile stones so that once you do begin your financial journey in the New Year, you know if you are keeping on the right path.
Personal goals – Set out the personal goals that you would like to achieve in the coming year. If you intend to lose some weight or spend some more time with your parents, etc, write all of these goals down. Establish a plan on how you will go about accomplishing these goals. So if the intent is to lose 10 pounds in the coming year, write it down and also break it up into a monthly schedule. Write down how often you will work out to achieve this goal and keep striking it out as you cross the mile stone.
Planning the up coming year will help you in many ways. Not only will you be prepared for the coming year, you will also know what goals you wish to achieve in this year. Having all this planned out does better your chances of attaining your pre set goals.