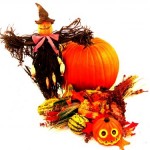 Halloween has always been one of my favorite holidays. As a young girl I couldn't wait until school got out so I could hit the streets.
The costume was secondary to the actual conquest. My goal was strictly to fill up my pillowcase with as much loot as I could possibly get.
One round was never enough. Once the bag was filled I would march home, dump it out, grab some dinner, and dash right back out for more.
At the end of round two, we would once again come home. This was the time to count out our inventory. It took great concentration to divide out candy into categories. Then the trading would begin between my siblings and I. Life was good on Halloween.
I would always eat all the chocolate first, and by Christmas my stash had been completely consumed. My sister was different. She had more discipline than I, and would take her time enjoying the bounty she had gathered. She could sometimes make her candy last until Valentine's Day, which truly astounded me.
When my children were young, I still had the mentality of divide and conquer. On the Halloween's that landed on Sundays, some neighborhoods would choose to hand out candy on Saturdays. So in those instances, we would go trick or treating on both days. It was fabulous!
It made me sad when the kids grew too old to go trick or treating. Another passage of time.
Life is constantly changing. So often I have taken things for granted, never thinking that they will end. And then poof! just like that, they are gone.
I still have the photos. Ninjas, cowboys, batman, power rangers. I can still feel the cold autumn night as we marched door to door. Sometimes friends would join us. Sometimes not. I would usually try to make a big pot of soup so that when we stopped home there would be something warm and comforting for us. I miss those times. I enjoy being able to go out with my grandson now, but when it's just your kids and you, it is a very special time.
Try to always treasure those times. That is what being a mother is all about. Finding the right costume, laughing and playing as you dress up. Sharing in those wonderful memories of their lives, and always having that bond. Try not to let anything distract you from the beauty of your child. From the beauty of your relationship. From the gift that you have been given. For it is what life is all about. Being a mom is a gift of learning, of giving and maturing. Of love.
Give your child the gift of beautiful memories. A legacy of you. When they grow up,  they will always be grateful to you for it. And they will carry it on with their own children. So now I can look forward to more Halloween's with Isaac. With other grandchildren that will come my way. I will always be a kid at heart. I will always love Halloween.
Written by Debbie Brown