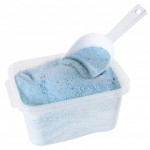 We hardly give our detergents a thought. When buying them from the super market, most of us will think about the price, which ones clean better, and some will even pick the detergent according to the type of clothes they wish to wash. However the most important aspect is often forgotten.
Detergents contain harmful chemicals, and as a responsible person, we should select our detergent based on its composition, as opposed to the things listed above. It is important to pick out those, which contain less harmful chemicals so that we can be kind to both our laundry and the environment.
Detergents cause extensive damage and a few of these are listed below:
To the skin – Those of us, who have tried to wash clothes by hands, know that these detergents can dry the skin tremendously. This goes to show the potent chemicals that these detergents contain. Several skin allergies and dryness problems arise due to detergents. The damage that they cause to the skin a well-known fact.
To plants – Mix some detergent in a bucket of water and pour it over a plant for a few days. In a week or so the plant will begin to die. All the detergent waste hits plants at some point or the other and kills these oxygen producing greens.
To the body systems- The chemicals in detergents harms the human body functions at all levels. Right from causing nasal and lung allergies, these detergents can also e fatal if consumed. The digestive system is affected by them and the eyes are at a special danger if exposed there cleaning agents. The cleaning agents can also be absorbed slowly through the skin.
To pets – If consumed by pets these detergents can cause their death and that too in a very painful way. Even the fumes of the cleaners are not healthy for the pets. Never make the mistake to bathe your pets using detergents since this can give them an intense allergy and even cause a breakout all over their skin. In case the detergents get into the pets eyes or ears, then the animal is sure to suffer great agony.
To the environment – The first and most important problem that detergents are responsible for is the damage to the environment. Most detergents contain phosphate and even those that do not contain this harmful chemical have another substitute for it. These chemicals promote the growth of algae and upset the ecological system of the planet. Right from fish to other living organisms, everything is effected by the detergent waste since the algae tends to consume all the oxygen in the water.
Chemicals like chlorine, phosphates and other harmful chemicals are common in commercial detergents. All these are extremely harmful, even deadly for you, your kids, your pets, our plants and even your planet. So the next time you buy your detergents make sure you read the label well and pick out detergents that are free of harmful chemicals.