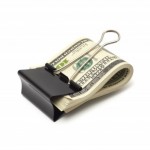 If you've ever read any of my writings, you know that I'm a huge advocate of budgeting.  I like to know where my money's going and how much of it is going there.  Living in the northeastern part of the country though, some of my bills, especially gas and electric, can fluctuate quite a bit throughout the year.
Fortunately, most of my utilities are on the budget program.  Being on the budget program means that my bills are the same year-round, even though I use more heat in the winter and air conditioning in the summer.
For example, I may only use $30 worth of natural gas in June, but use $300 worth of natural gas in December.  That's definitely a huge fluctuation.  On the budget program, the gas company would estimate my total yearly expected usage, based on my previous usage, and divide the total amount by 12 (for the 12 months of the year).  That would be my total monthly bill, no matter what the season.
It's much easier to plan my monthly budget when I know what my bills will be.  I'm sure it would be helpful for you, too.  So, check with your utility companies to see if they offer a budget program that you could sign up for.  If they don't you could always urge them to start one!
Article by Randi Millward