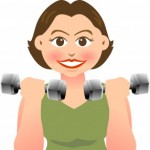 As mothers we will pay a lot of attention to the health of our kids and other family members. Right from the food they eat to the environment that they are exposed to, we try and take care of it all. In all these duties, there is a tendency to forget about our own health and this flaw brings a huge collapse.
Unless the mother of the family is fit both physically and mentally, there is very little chance that the family will be able to flourish. It is absolutely imperative that as mom, you take care of your health first if you wish to take care of your family. Remember only when you are fit and healthy will you be able to give the family, your very best.
Some tips below will help mom's to focus on their health quotient and better it:
Never skip meals – In all the organizing for the family, moms often tend to forget to eat. Breakfast is one meal that often suffers this fate since the morning is a hectic time and so over looking the breakfast is easy. Do not make this mistake for eventually the hunger will force you to eat junk foods which are both unhealthy and high in calorie. It will help to set aside your food for the day and make sure that you eat it on time. Have an alarm that will tell you to eat breakfast, lunch and dinner. Skipping meals or not having them on time is unhealthy in several ways.
Never forgo exercise – Another common problem that mothers seem to face is lack of time and this lack of time forces them to forgo an exercise plan. Irrespective of your weight, you must exercise at least five times a week. The heart rate that you accelerate and the weight control are of course obvious advantages, but we should not forget the endorphins that exercising releases. It is a known fact that women who exercise regularly have high energy levels and have low menopausal symptoms too.
Never place yourself last – In all our health planning we tend to forget that a healthy body is a combination of good physical and mental health. As moms we will tend to place our needs and wants at the end of the list and rarely ever get to them. This is a short sighted approach to life since sooner or later one is bound to explode under the pressure. While tending to your family's needs look out for your own too. Treat yourself as often as you can and make time to read or meet up with friends, even if it means stalling the laundry for some time.
Mothers are no doubt the backbone of the family and it is crucial that this backbone is healthy and peaceful so that the rest of the set up can function smoothly too. So keep the tips about in mind and work towards achieving a higher health quotient for yourself as you do for your family.
ps