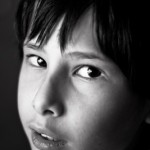 Stress is something we usually associate with adults but this is not always true. Children face a lot of stress too and while the physical stress they can mostly deal with due to their high energy levels, when it comes to emotional stress they do require some help. Children are mostly new to the world of emotions and rarely know what to do with them and this can often translate poorly towards their health and also their happiness quotient.
Here are some tips on how you can help your children to cope with emotional stress and come out of the problem on a positive note:
Identifying the emotion - The first step in helping the child to deal with emotional stress is getting them to understand what emotion they are feeling. Emotional pressures can cause a child to go through several emotions like anger, sadness and sometimes even frustration and fear. In order to deal with the emotion the child has to understand what these emotions are. Explain to them how these negative emotions can be harnessed. Talk to the kid by stating examples and always let the child know that emotional stress is normal and needs to be dealt with.
Teach verbal expression – Most kids will not know what to do with their emotional stress and so may choose to release it physically. It is a fact that most children and even adults who get into fights or are physical abusers are usually suffering from emotional stress. Never encourage your kid to just brush the stress under the carpet, instead help the child to express his/her feelings and stress via verbal communication. Talking to a friend or a family member that the child feels close to is going to help harness the stress and depending on the age of the child, you can take this forward.
Looking ahead - A large part of dealing with any emotional stress is to look at the positives that life has to offer. We also need to help our kids to move one with their lives and look ahead at the positives when battling their stresses. This is very important and will involve certain definitive actions depending on the child's personality. As a parent you will need to encourage activities that make the child relax and loosen up. If the emotional stress has been caused by a certain incident do not keep referring to it over an over again. Allow the child to put it behind him/her and instead focus on what tomorrow is going to bring in.
In most cases the pressure of studies, the death of a close one and even dealing with the divorce of their parents are a few reasons that trigger on emotional stress in kids. As adults we often tend to believe that children bounce back from emotional stresses quickly and to a large extent this is true also. So, if despite your best efforts you find that the child is not responding well, do not shy away from seeking professional help in this matter.