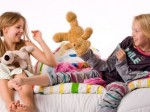 As an infant grows older, she learns a lot of new things. Fear is an emotion that slowly develops along with these learning. This is the reason why a toddler may suddenly be scared of sleeping alone in her room, despite having slept peacefully in the nursery as an infant. Irrespective of whether your kid slept in her own room from day one or you moved her later, there is bound to be some tussle over sleeping alone.
Some tips below will help to settle your kid into her own bedroom without her having to cry her eyes out every night:
Make it fun – When giving your kid her own room, make the entire exercise a fun activity. Make the child feel real proud to have her own room and discuss with her how much fun she is going to have here. The room must be comfortable and you should decorate it keeping the personality of the kid in mind. Involve the child in every way possible and make the experience as magical as you can. The idea is make the child want to move into the 'new room' that has been especially designed for her.
Progress gradually - Instead of forcing the kid to spend the entire night there alone, it will work better if you are gradual with the shift. Begin by letting the child sleep there when she wants to. Never force her to sleep by herself and keep all other options open. Do be careful here, since by forcing the kid to sleep in her own room, she may get the feeling that she is no longer wanted by you. It may even help to lie with in bed initially till she falls asleep. You can read to her before bed time, cuddle with her, etc, whatever makes her more comfortable and relaxed.
Keep away fears - A Spiderman curtain can take on the form of an evil monster once the light is switched off. A seemingly non threatening lamp can give out an evil shadow once the back light comes on. These things can scare a child no end. So if you find that you kid is getting too many nightmares and is scared to sleep by herself ask what is scaring her and eliminate the cause. Most kids prefer a night light in their room so that they can see clearly and is also a prop that is very helpful. The more free of scares you can keep the child's bedroom, the sooner she will settle into it.
Sooner or later every kid will move into her own room, so do not fret too much if your kid is taking her own sweet time. Enjoy the cuddles till you can, since you will be surprised at how quickly time flies and your little kid grows up to be a aloof teenager who hardly allows you into her room. So work with these tips and you will find that soon enough your baby would have settled into her own bedroom.