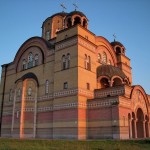 Religion is all around us and even if you are an Atheist, you will find yourself explaining religion to your child sooner or later. Religion can be very confusing for a child since it does not follow a set pattern always. There are so many streams out there and kids will often get confused about what to believe and what not to believe. In most cases each religion offers contradictions and so this can make a kid feel even more lost.
Irrespective of what religion your follow, it is important that you talk with you kids about religion so that you are able to give them a strong foundation and help them grow into wholesome adults. Some tips in this arena follow below:
Basic values – The basic value system of all most all religions around the world are the same and these basic values should form the core of our teachings to the kids. When talking to them about religion, lay emphasis on these good teachings. Talk to the kids about the need to be good. Do not hurt other, do not cheat, do not lie and other such rules which are set down by almost all religions. The foundation of the religious sentiment of the child must be based on a good value system rather than just the frivolities.
Rituals – Every religion has its own set of rituals and helping your child understand them will help the kid to participate in them with greater enthusiasm. Explain the ritual to the child and also explain the importance of the ritual. If you want your child to give grace before meals, explain to the kid why it is important. The same holds true for rituals in the place of worship. The significance of the ritual and the importance of following it must be explained to the kid instead of simply burdening the child with the ritual and forcing him/her to follow it.
God is one – With so much conflict between various religious groups, it is important that we do not raise our kids to be religious fanatics if we are looking at a better tomorrow. So when explaining the concept of God to children, make sure you emphasize that this supreme power is one. People may interpret it differently but there is only one God. This will help children to keep an open mind about other religions too and be more tolerant of them.
Religion can help children to inculcate a lot of good values in their lives. Learning to find solace in God and developing a personal bond with this power helps kids to fight their daily battles with a lot more confidence. Since religion has different meaning for each person, it is important that you give your child your thoughts but also help the kid to develop an independent thought process in this regard. Keep these tips in mind and you will be able to teach your kids about religion and help them understand the concept better.