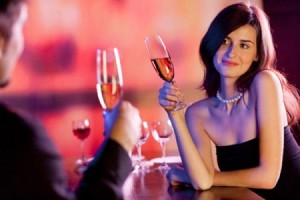 Has it been a while since you've been on a date? Maybe it has but it's not your fault that there seems to be not one man that can stand your test! Or is it? Everyone from your best friend to your mother has told you at least once that you have high standards when it comes to men and maybe you've even taken pride in your nothing but the best for this mama take on dating and relationships. What if I told you that your high standards may just be a copout for your insecurities? Harsh I know but I tell it like it is.
Don't get me wrong! Single mothers should have high standards when it comes to men and if you've also been through a divorce then that just adds to your reasonable reasons for having high standards. Children and ex's aside, think about what your standards are when it comes to who you will and will not date. Do you allow yourself to date the commoners or does he have to be Prince Charming?
When I started dating after my divorce, I had very high standards. Much higher than before I was married. The men I dated had to be smart! Like PhD smart! They had to be tall, dark and handsome, stable in all areas, confident enough to show me what I wanted and if they showed the slightest hint of neediness…forget it! I kicked them out of my life before they could shake their head. I was so proud of myself for showing these "boys" who's boss. Then I started to realize that I was going through men like my kids go through gallons of milk! I was so stressed out that I gave up on dating completely.
After some much needed soul searching and watching my other single mom friends fall happily in love, I realized that the problem was not my "high standards". The problem was that I was insecure. Setting high standards was my way of protecting my heart and keeping men from having any chance of finding love with me. I was recently divorced and I was scared of letting any man get too close to my heart.
It's okay to have standards but the truth is, you don't know exactly what you want until you've found it. If you're shooing away a man just because he has blonde hair or because he doesn't make enough to buy you a new Coach purse every time the season changes, then your expectations are unreal. Ever hear the saying "you can't judge a book by it's cover"? That cute guy down the street who is only 5"8 with a less than rock hard body just might be your perfect match if you give him a chance. There's only one way to find out! Next time he offers to help you carry the groceries in, let him. Then offer him some coffee and see where things go.
Dating is hard when you're a single mother but it's far from impossible. You just have to be open minded and allow yourself to be vulnerable. Here are some pointers to help you be realistic in finding love!
Broaden your "tunnel vision". Think you'll only find love at work or amongst the sophisticated business men that frequent your favorite coffee shop? Think again! The next man to rock your world could be anywhere so broaden your vision and be on the lookout!
Don't be a naysayer. Quit saying no to every guy that asks you out. I mean if you don't feel the slightest hint of excitement when he asks you out and you're not attracted to him at all, then say no…nicely. If you're saying no just because you're afraid to put yourself out there, then take a deep breath and step into the unknown…say yes!
Ask yourself how you feel about dating. Do some soul searching and really think about how dating makes you feel. Does it make you want to hide under a rock? This is okay, I promise. As a single mother, our fears of dating usually stem from our fears of how a man will fit into our "mom" life, the shortcomings of a failed marriage that have left us feeling less than confident and our fear of being abandoned once he realizes he'd rather not date a single mom. Putting yourself out there is risky, yes, but must I remind you that you are strong and smart? Not to mention…you deserve to be happy! So if you think you'd like to try dating again, relax and take it slow. Go into it with the mindset that this will be fun and see where the" fun" takes you.
Try a double date. If you're not quite brave enough to jump head first into the dating pool but still want to give it a shot, then why not go on a double date with a friend? This will keep things casual and less intimidating.
Ban the ice queen act. Everyone knows that the evil queen in Snow White was plagued with insecurities and look where it got her! Try to smile more. You may not know it but when you smile, you let people see a glimpse at what's under your skin. Try to open up and let people see more emotion. This isn't always easy to do but the more you open up and let people see your true personality, the more confident you become.
Do something for the woman in you. We are so busy being "mom" that it becomes who we are. Find something such as a new hobby that has nothing to do with being a mom. This will help you learn more about yourself and the more you learn about yourself, the more confident you become.
As a single mother you have a lot that makes you vulnerable. Your children, your responsibilities, your independence… but life is about taking risks. If you never take a chance, how will you ever find the "better than I ever imagined" happiness that you deserve? So buck up girl! Be confident and let those men see your real beauty.
Written by Kristy Casto
If you liked the post and want more, vist her blog:
http://www.moderndaysinglemom.com