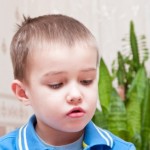 Toddlers do not have a well developed vocabulary and are not good listeners either. This means that as moms we may not understand everything they wish to communicate to us and vice versa. The end result is frustration on both sides. While as adults we can control our negative emotions, toddlers will throw a full blown tantrum, which from their eyes is completely justified behavior.
The need here is to set an example for your toddler by dealing with the tantrum in such a way that the child does not feel abandoned or less loved but understands that tantrums are not going to get them anything.
Distract - Toddlers have a very short attention span and are easy to distract. If you find that your toddler has launched into a full blown tantrum, simply try and turn her attention to another object of desire. Something as small as a bird, a favorite toy or even a song may do the trick. A noisy and action packed distraction works much better than a calm and slow one. So, if trying to distract a toddler use a noisy rattle while singing her favorite song on a high pitch. Pointing to a plane in the sky, a car far away or even a ball lying around can break the rhythm of the tantrum and distract the kid.
Be Firm – Another way of dealing with the tantrums of a toddler is to be firm in your decision. If the kid has thrown the tantrum for something that you were refusing to give, stick with that decision. Sometimes parents will make the mistake of saying no to the toddler and when she throws a tantrum they will give in to the very same demand. This encourages the child to throw tantrums since she feels that it gets her what she was denied before. So make sure you adopt a firm attitude towards the tantrum and stick with your decision.
Ignore – Even experts advise that the best way to deal with a toddler's tantrum is to ignore it. Do not give any sort of response. Even scolding the child for the bad behavior should be completely avoided. The message you want to send out to the toddler is that a tantrum gets her nothing at all. Any sort of response from you will only encourage the child to throw more tantrums. If you simply ignore them and go about your work, the toddler will soon understand that there is no use of howling screaming and kicking since absolutely nothing comes out of it. The futility of the act will dawn on the child who will stop resorting to tantrums.
Toddlers are learning the ropes of social conduct and as moms it is our duty that were help them in this learning process. We need to make them understand that throwing a tantrum is not appreciated and is not an act that is in any way beneficial to them either.