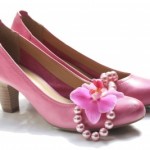 A lot of us will put in a lot of care into looking after our clothes but tend to ignore our shoes. Shoes need to be given same attention as we give to clothes. Footwear can also be expensive and if looked after properly can last longer. Ignore your footwear and you will you end up having to buy new shoes (just when they started to become more comfortable). Shoes can also cause the forming of corn, foot fungus.
A few tips on how to take care of your shoes so that they last you longer:
Heel care - While shoes for men and kids also demand heel care, women need to be particularly careful of their heels. Most shoes these days come with an extra heel pad, and it is important to keep these in a safe place, so that we can find them when it is time to replace the previous heel pad once it wears out. This heel pad not only protects the heel, but also ensures that the heel is balanced properly.
Proper storage - Due to the weather differences in most places, many of us have winter shoes and summer shoes. This means that one set of shoes will mostly be stored away for a good few months each year. When storing these shoes take precautions to protect them from humidity since this cause fungus and ruins the shoes. This is primarily important when storing boots. Another important aspect to keep in mind when storing shoes is to make sure that the shoe does not lose its shape, since this will also cut short the life of the shoe.
Maintenance – Shoes, just like clothes, need to be regularly and properly maintained if they are to be enjoyed for a long time. Polishing your shoes, cleaning them of any mud or dust, drying them out if they have gotten wet, etc is all very important shoe care.
Prevention – There are certain shoes that are developed for certain conditions and if you wear them otherwise, the shoe will not last too long. It is important that you prevent your shoes from things that may damage it. Keeping leather shoes out of water is important. Similarly wearing soccer shoes on hard surfaces will ruin them. Wearing dress shoes for an outdoor trek is of course going to ruin these shoes and sticking to harder soled trek shoes will no doubt be a better option.
Proper care of your shoes can save your feet and can save you money, so be ready to care for them properly.