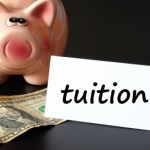 Recently Sallie Mae released a survey that showed that parents are contributing less of their income to pay for college than they did four years ago. In 2009 37% of parents income went toward paying for college. Today only 27% of income is going toward college expenses. The survey found that parents and families are relying more on grants and scholarships to cover the cost of tuition. Four years ago grants and scholarships paid for 25% of college expenses, today they account for 30%.
Parents and students are becoming increasingly savvy in finding ways to pay less for college expenses. For those seeking to attend a college out-of state, one such way to reduce the cost of college is to take advantage of an out-of-state exchange program. These programs allow students to attend a public university in a neighboring state without having to pay costly out-of state tuition fees. Here is a list of exchanges available in each region of the country.
Western Region
Western Undergraduate Exchange: This program allows students living in the following western states: Alaska, Arizona, California, Colorado, Hawaii, Idaho, Montana, Nevada, New Mexico, North Dakota, Oregon, South Dakota, Utah, Washington, Wyoming and the U.S. Pacific territories, to attend a participating 2-year college or 4-year university, without paying full out-of-state tuition. Students may request a reduced tuition rate of 150% of the resident tuition. You can find participating schools here. Apply early, as there are limited number of awards available each year.
Western Regional Graduate Program: This program is similar to the one above but for graduate students.  The program allows those seeking a master's degree, graduate certificate or Ph.D. to enroll in 275 high-quality programs at 52 participating institutions outside of their home state and pay resident tuition. In 2012, more than 1,000 students enrolled in this program and saved an estimated $15.2 million dollars in tuition. Students averaged an estimated $15,000 savings.
To participate students must live in Alaska, Arizona, California, Colorado, Hawaii, Idaho, Montana, Nevada, New Mexico, North Dakota, Oregon, South Dakota, Utah, Washington, Wyoming and the Commonwealth of Northern Mariana Islands.
Professional Student Exchange Program: This program enables students from 11 western states to enroll in select out-of state heath care professional programs with reduced tuition. Participating states are listed here.
Midwestern Region
Midwest Student Exchange: This program allows tuition reduction at both public and private colleges and universities in the Midwest. Students from Indiana, Kansas, Michigan, Minnesota, Missouri, Nebraska, North Dakota and Wisconsin are eligible to participate.
Southern Region
Academic Common Market: This program allows students to study in a specialized field at an out-of-state college while paying in-state tuition rates. Tuition discounts are provided for 1,900 undergraduate and graduate degree programs for students living in the following 15 states: Alabama, Arkansas, Delaware, Florida, Georgia, Kentucky, Louisiana, Maryland, Mississippi, Oklahoma, South Carolina, Tennessee, Texas, Virginia and West Virginia.
The Regional Contract Program: This program enables students living in the southern region to pursue a professional health degree at an out-of-state institution and pay in-state tuition at public universities or reduced tuition at private universities. Find a list of participating states here.
New England Region
New England Regional Student Program: This program enables thousands of students residing in the New England region (Connecticut, Maine, Massachusetts, New Hampshire, Rhode Island and Vermont) to enroll in out-of-state New England public colleges and universities at a discount. The discount is applied when students enroll in an approved major that is not offered by a public college or university in their home state. Tuition discounts are given for more than 700 undergraduate and graduate programs at 82 colleges and universities. Find a program here.
Written by Naiyma Houston