Excerpt from "I Hate My Life (A Teenager's story)" by Linda Mobley – Part 2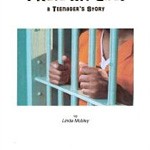 During one visit, my mom noticed corns on my feet. She cried because she knew I got them because my shoes were too small. She didn't want to fight with dad about it, so she took me out to get new shoes even though I knew she couldn't afford to.
I loved my mom and I missed her so much. I hated not bring able to see her everyday. My mom always showed me love and kindness. She played with us, and she would always be singing. When we did visit with our mom we had a great time. My mom, sister and I would go to the park, then to the mall, and then have dinner. We never wanted the visits to end.
I remember one day crying and screaming because I did not want to go back home to my dad. My mom called the police to report my unhappiness about going back. The police did a report but told me I had to go back to my dad any way. I cried louder and louder but it did no make a difference. I heard the police tell my mom that if my dad and her kept arguing about me, that I would end up in the system.
As the days, weeks, and months went by so did my unhappiness with living with my dad. He never wanted me or my sister to see our mom, and we couldn't talk to her on the telephone either. I felt so alone and lost without the affection my mom showed me.
I never felt any kindness when I was with my dad. When my mom told me she was going back to court so that she would be able to see us on a regular basis, I jumped for joy. I was so happy to hear this. Eventually my mom did get visitation, but my dad still made it difficult for her to see us on a regular basis.
I was very angry whenever I couldn't see my mom. My mom was fun to be with and made sure we had a good time. My dad had no interest in anything like that. I can remember my dad making us lie to our mom, even telling us to hide when she would come to see us. Every time it happened, it tore me up inside.
Written by Linda Mobley