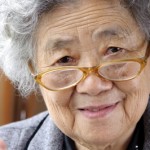 I remember Bunny well.  I've worked with many people over the years, but few stand out in my memory as strongly as Bunny.
Her real name was Elizabeth.  But everyone called her Bunny for she was born on Easter Sunday.  When I met Bunny for the first time, she was 94 years young.
Bunny's stature was strong and tall.  Still striking at 94, her skin had become the color of worn tan leather, with a similar texture.  Bright blue eyes still glistened with excitement when you entered her room.  She was always so glad to see you, even if you had been there only an hour earlier, for Bunny had lost her ability to remember short term experiences.
She had grown up in a large catholic family on the south side of Chicago.  Never married, Bunny spent many productive years working in the financial industry right downtown on State Street.   Those were the days that Bunny remembered well, and when asked about them, a fond look appeared in her eyes.   She remembered a time when she lived in a magical city, filled with possibility and wonder.  A time in her life when the world was her oyster, and life was wonderful.  Bunny was great with numbers, made a small fortune for herself, travelled extensively, and lived a life of adventure that I could only dream about.
So why does Bunny stand out in my mind?  The truth is, we really had very little in common.  She was a strong career oriented woman, long before it became popular.  She never married or bore any children.  And Bunny had a boatload of money.  I on the other hand, had always dreamed of motherhood, had married and divorced, and was busy raising four children alone, with very little means or financial support.  The only reason I even had a career was out of necessity.   And yet, there was a strong bond between Bunny and I.  Although each time she saw me she introduced herself anew, underneath the external, our souls recognized each other.  Bunny's life represented a freedom to me that I had never experienced.  She told me of a lifestyle that I could only envision in my mind.  I was overwhelmed with responsibilities at the time we met.  And now, as I look back on our relationship, I was probably more than a little envious of the freedom her life had held.
Bunny was old now.  But even at 94, she still commanded a second look.   She still had a presence about her that drew your attention.  With her mind losing its grip on present day reality, Bunny didn't understand why she was not allowed to go outside unescorted.  She had done so all of her life.   And whenever Bunny saw the sun shining through the stained glass windows in the front of the retirement community that she now called home, she bolted towards the door.  It didn't matter the time, the day, or the temperature.  Bunny's mind had let all of that go.  But her spirit always recognized the sun.  And it yearned to be near it, as it had always done in the past.
So I guess that was our connection.  That yearning for freedom.  For Bunny, it was a freedom she had possessed all of her life.  For me, it was a freedom that I had yearned for desperately.  We were both trapped in a way.  Bunny, due to her dementia, and me, due to my responsibilities.  And yet, underneath it all, that pure raw desire connected us on a level that was not perceived in the conscious state.  Only in reflection can I see it now.
Bunny has long since left this world.  She is on to bigger and better things I am sure.  And so am I.   As my children grow older, my freedom grows more abundant.  And the time is coming for me to experience many of my own adventures.  Ones that I had previously lived through vicariously, thanks to Bunny.
I give thanks for my dear special Bunny.  During a very challenging time in my life she came along, and without even knowing it, opened a door of possibilities for me, a glimpse into another way of life.  Adventures that my spirit had been yearning for without my even realizing it.
So Thank You my dear sweet Bunny.  Wherever you are, I know you are strong and well, and that the sun is always shining for you now.
Written by Debbie Brown