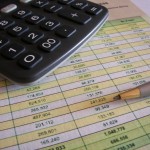 Just a reminder, tax season is almost here!  Make sure to open all of your mail.  Even an envelope that appears to contain junk mail may contain valuable documents that you may need when filing your income taxes.  Employers have until the last day of January to mail out income tax statements, so you may not receive them until early February.
Now's the time to designate a folder, box, or other container for tax return documents, receipts, and other pertinent tax return information.  You could also begin shopping around for tax return software or an accountant if you're not planning on filing a self-prepared paper tax return.  You could also make an appointment with a tax preparation professional for as early as mid-February.  You'll want to book an appointment quickly, as they're sure to fill up fast.
While waiting to receive the tax return documents that are being mailed to you, you could gather and organize any receipts you'll need for your tax preparation.  After all, organization makes preparation much easier.
I admit, I'm looking forward to the tax return I hope to be getting, but in all honesty, I have no idea how much I expect to get back.  I'd like to put some towards the balance of my home equity line of credit, save some for a pool pass for this summer, and due to my daughter's dust allergies, use some to tear out the carpet in the bedrooms here and finish the wood flooring beneath them.  I don't know if I'll receive enough for all of that or not, but sometimes it's nice to dream!
In conclusion, I wish you all an easy tax preparation, and a huge tax return!
Article by Randi Millward