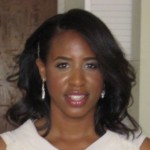 SingleMom.com is proud to present the work of Naiyma Houston, a scientific professional passionate about inspiring and empowering young women to seek careers in science, technology, engineering and mathematics (STEM). Raised by a single mom, she was fascinated by math and science since she was a young girl, when she was encouraged to seek a career in science or engineering. As she excelled in her math and science classes in high school, she was accepted at UCLA, where she graduated with a BS in Microbiology and Molecular Genetics.
Naiyma Houston is the founder and director of Upper Hand to College, an educational organization inspiring young girls to pursue an education in science and engineering. She founded Upper Hand to College in the spring of 2012, after years of working as a researcher and project manager in the biotechnology/pharmaceutical industry.  Naiyma started the organization because of her strong personal commitment to improving the number of women seeking careers in STEM.
On, Saturday, November 17, 2012 Naiyma led the first annual Upper Hand to College STEM Conference for Girls. The event was held on the campus of UC Santa Barbara.  The conference was targeted for girls in grades 6-12, parents and educators. It was a fun, inspiring and motivational day, geared toward increasing the number of women in STEM fields. Naiyma created a top notch roster of women leaders in science, engineering and education to share their experience and advice with the more than 200 students, parents and teachers in attendance. Guest experts included Dr. Anita Sengupta, a NASA scientist and engineer who worked on the Mars Rover Curiosity project, as well as acclaimed author Robin McDougal, M.Ed.
Several local and regional nonprofits participated, sending small or large groups of their members to benefit from the engaging academic encouragement and hands-on workshops. Students attended from as far south as San Diego, CA and as far east as San Bernardino, CA.
Naiyma enjoys sharing her love of math and science and supporting the next generation of women in STEM. She's recently partnered with Antelope Valley College – Palmdale Center to present two STEM Conferences for students in the Antelope Valley (March 9, 2013 and May 9, 2013).  In July, she's hosting a Summer IT Academy for Girls, where students will learn to build mobile apps for Android phones. Furthermore, she is looking forward to planning many more engaging  STEM events for girls in her local community.
Naiyma agreed to share from her experience in the benefit of SingleMom.com readers, she has a new post about how you can reduce the cost of college.