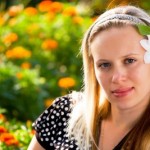 Single mothers know for a fact that their days are so hectic that most don't even know where the weekend has gone, let alone the weekdays. Juggling work and home is hard enough and then having to take care of the kid(s) single handedly is like mission impossible. In all these things your dating life seems to have evaporated completely.
Most single moms wonder if their dating years are behind them and will they now live their lives and grow old alone and lonely? Lets take a look at some pointers below that will help you identify if you have indeed giving up dating and also decide if this should change:
Looking good - If you are a single mom that is so focused on her daily chores list that she does not even take out time to dress up and look good, then you are definitely moving away from the dating world. While it is a fact that you are a mother and being a single mom does mean that you pay extra attention to the kid, it is also important that you must not neglect yourself in the bargain. While it is okay to not bother about how you look for the initial few weeks of motherhood or even on a particularly hectic day, but if it has become a norm with you, make a conscious effort to change this scenario.
Caring for your shape - Since single moms rarely have time to breathe also, hitting a gym may seem like a complete impossibility. Once you stop caring for your shape, you are likely to gain weight and this forces you out of the dating scene in some way or the other. If you find that you are gaining weight and not bothering about it, change your outlook quickly. Right from controlling your diet to adopting some form of exercise, follow it all in order to get fitter and feel better about yourself.
Looking forward to socializing – Sometimes single moms become so involved with their kids and home and work that they begin to avoid socializing at any level. Keeping to yourself will mean that you are less likely to meet anyone whom you can date and this automatically means you are closing the door to the dating world. Change this scenario. Go out for as many social events as you can without compromising the kids. If you don't have a place to leave them, organize social gathering where the kids can come along and you can also get to meet new people.
Single mothers don't have it easy but this does not mean that you forget your own life. You have to move on in life and getting back to a dating life is the only way to get this done. So do make time for your dating and try and fit it into your timetable even if that means that you have to compromise on keeping the house a bit. Remember that if you stay away from a dating life sooner or later you are going to get frustrated and that will negatively affect every other aspect of your life.