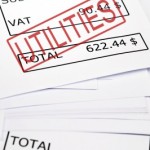 I'm late for everything lately.  For a while, I've been able to be "just in time" with only 3 children needing cared for, but with a new baby on the way, I'm losing track of time all together.  Baby brain is no joke.  It really does exist, and it really does mess with you.  (Seriously, look it up.)
I've been getting my regular bills paid just in time, but I've needed to fill out and mail in my vehicle registration for about a month now.  It's been sitting on my kitchen counter so I remember it on my way out the door, but I always forget it.  It's not just that though.  I forget a lot of things.  I'm tired, I'm pregnant, I've got 3 kids to care for, and I'm not super-woman.
I'm late for church, late getting my 5-year old to cheerleading practice, late getting to friends' houses.  I'm just plain late.  I know that it can cost me financially to be late on bills, or earn me a fine from being late with my vehicle insurance.  I'm trying, I really am.  I'm just getting pretty overwhelmed.
With prenatal appointments, kids in soccer, cheerleading, one child in pre-school, home schooling my kindergartener, and whatever else it is I do all day, I'm tired.  I'm not trying to complain. My children are a blessing, and we're blessed to have children's activities for them to participate in.  Sometimes I just feel like I need a break to get caught up on life.
I'd like to say that I'm going to go fill out my vehicle registration right now, but I'm not.  The UPS driver just came, so I've got a birthday present to hide.  I also need to prep dinner, wash dishes, and wash laundry.  Realistically, I'd rather take a nap, but we'll see what time allows.
I'm trying to stay on top of things though, and I really do plan to get my vehicle registration renewed.  Right now though, I think I just need a little break to clear my head so I'm better able to get my bills in order and think clearly when I sit at the table to pay them.
Article by Randi Millward