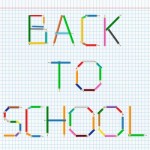 The store shelves are stocked with back-to-school supplies, reminding us of that dreaded time of year again that ends our summer fun.  For some parents, it's a welcome break from paying for daycare.  For others, it's a curse that brings piles of doctor bills from all of the germs circulating around crowded classrooms.  Either way, children need an education, but you can be pro-active and choose which type of education works best for your family.
Public school has no up-front costs.  It's funded by our taxes, so we think of it as being free.  Home schooling has varying costs, depending on what curriculum you choose, your use of the library, whether you use new or used curriculum, and whether or not you know someone who might be willing to give you their old curriculum.  Private schools are funded by student tuition, but most of them offer financial aid and/or scholarships for lower-income families.
When my oldest daughter was old enough to start school, I registered her at a private Catholic school.  I was approved for 100 percent of the tuition through their scholarship program due to our income, but in the end I just couldn't bring myself to send her there since we're not Catholic and the school starts teaching Catholicism in preschool.  Instead, I sent her to a public school, and I was not at all impressed.  She was supposed to be learning things that she had learned about 2 years before starting school.  She was way ahead of what was being taught, but her dad very strongly wanted her to stay there so she'd get the experience, so I went along with his wishes so he'd go along with mine for this year.
This coming school year, I'm home schooling my daughter.  I purchased my daughter's entire curriculum for around $200, though it would've been less expensive had I bought it used.  I'll also be signing her up for the home school co-op in our area, which will cost around $15 per month for me to bring all 3 of my children to since I'll have one in kindergarten, one in preschool, and one in the nursery.
If the costs are the same next year, I can afford to do the same by simply saving $28 per month to put toward my children's education.  Home schooling isn't for everyone, but neither are public and private school.  You may think that you can only afford to send your child to public school, but with private school financial aid or used home school curriculum, you may be afford to educate your children any way you choose.  Look into your options, and choose what best for your family.  You may be surprised at what's possible for your child's education.
Article by Randi Millward