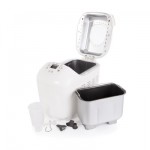 In the past couple of weeks or so, I've managed to kill 2 blenders, a computer, and a breadmaker.  Also, the dashboard warning light came on in my van, and I'm slightly leery that my hair dryer may start to shoot fire.  I don't know how or why technology and I became so incompatible so quickly!
When the blender that I just got for Christmas died, the company sent me a new one, but I had to pay about $10 for shipping.  The first time I used the new blender they had sent me, it broke.  My breadmaker is only a few years old, but I use it practically daily, as I make all of our bread products from scratch.  The computer, well I don't know much about computers, so I don't know what went wrong with it.  The van: "check engine".  The hair dryer: "pop", burning smell.
Yes, I've developed quite the knack for breaking things, but I haven't quite gotten the knack for replacing them.  After all, things cost money, and I just can't afford to replace and/or repair that many things at once.
I admit, I was pretty down about it all.  I was sad, angry, depressed, and frustrated.  I need a blender because I make smoothies for breakfast every morning.  They're quick, easy, healthy, and my kids don't even taste the spinach and asparagus I put in them!  The blender was something I would have to replace.
Thankfully, my mother had a blender that she had never even used, and being the wonderful mother that she is, she gave it to me.  The first time I used it, my kids were so excited to tell that Mommy used the new blender and it didn't even smoke!
Another wonderful woman gave me her breadmaker because she rarely used it.  I've been using it, and it works great.  I'm so grateful to these generous people in my life.
I'm not a good "taker".  I'm more comfortable giving than receiving, probably because I don't like to need anyone or anything from anyone.  I feel the need to always be strong and in control.  I can't let myself rely on others because I can't be that vulnerable, but in the past month, I've received help from many other people.  Yes, I was uncomfortable, but it was truly great.  Other people were meeting my needs and caring for me.
I thrive as being someone who takes care of others, but I just didn't have it in my budget to take care of everything that needed taken care of.  It wasn't easy letting others help, but it was definitely worth it.  I'm not good at asking for things, but I guess sometimes it's okay to accept help.
Article by Randi Millward