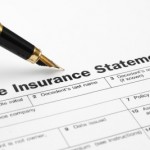 Imagine my surprise when my insurance agent called to say that a very large life insurance policy had lapsed last month due to non-payment.  Why did I think that was impossible?  Because the monthly payment is directly deducted from my checking account on the same day every month.
That woman had me scared to death.  (Well, not literally to death, thank God.  Death is unacceptable with lapsed life insurance.)  She had me so scared that I obviously wasn't thinking straight.
Surely she was wrong.  She had to be.  But in order to prove her wrong, I'd need my bank statement and insurance policy.  While I looked for those things, she said she'd try to figure things out and call me back.
Once I was off the phone with her, my first thought was "where is that insurance policy?".  I didn't know.  I didn't know where the policy was.  I didn't know the policy number.  Why in the world was I so disorganized?!  I'm usually a very organized person.
Since I didn't know where the policy was, I logged onto my bank account online to be sure this month's payment was deducted.  It was.  But it was deducted by a different insurance company.  Then the "duh" moment hit me:  the life insurance policy isn't with her company; it's with a different one.
Well, with that figured out, the next question I had was "what in the world is she talking about?!"  When she called back, I told her that the policy wasn't with her company.  Confused, she checked again and noticed that the policy she scared me about had ended 5 years ago.
How does this kind of stuff happen?  I don't know.  I have other policies with that woman's company because they're the cheapest, but this particular life insurance policy was cheaper elsewhere so of course I purchased it elsewhere.
No, this isn't the first problem I've had with my insurance agent, but that's all the more reason for me to have my paperwork in order.  I'm not switching agents over these hassles because this agent consistently gets me the cheapest rates on nearly every policy, but I definitely do need to be extra careful with her and always double-check my policies.  If that scare doesn't cause me to get my insurance policies organized, I doubt anything will!
Article by Randi Millward