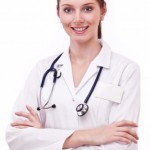 Some time ago, I received a letter from my children's pediatrician informing us that she was moving out of state.  I remember a time when she was on vacation and I had to take my oldest daughter to my doctor instead.  That visit wasn't covered by our HMO insurance plan for my daughter, so I had to pay out of pocket.  I didn't want that to happen again, so I needed to find a new pediatrician as soon as possible.
After asking around, I called the office of the man who will be our new pediatrician.  I was quite satisfied with the answers to all of the questions I asked and decided on him right away, but I couldn't just start taking my children there immediately.  I'd have to call our insurance company first.
Since we have an HMO, our PCP (primary care physician) is listed right on our insurance cards.  We get to choose the PCP, but whoever is listed is who the insurance company pays for us to see.  Since we're changing our PCP, we need to inform the insurance company of our newly-chosen doctor.  They will enter it into their system and send out new insurance cards promptly.
Such a simple phone call can be financially costly if it's forgotten.  It's best to get it done right away instead of scrambling to do it, and possibly forgetting, when your child gets sick.
Article by Randi Millward