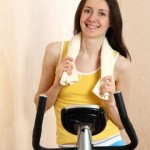 Prevention is better than cure, and this holds true when it comes to the holiday pounds too. Instead of fighting off the weight once you have gained it, a much better option is to enjoy the holiday and yet guard against the pounds piling up. Keep in mind that what may take you a week or two to put on, can take several months to shed and you will need to do some very hard work to lose these pounds. If you use preventive methods, you will be able to enjoy the festivities and holiday food without fretting about it later.
Below are a few tips that will help you keep holiday pounds at bay:
Get your daily dose of exercise – One major reason why we tend to gain weight during the holidays is due to the fact that we tend to shelve our exercise routine too often. Late night parties, too much shopping, going sight seeing and eating out, pushes our exercise out of your daily routine. If you don't want the weight gain, then you will have to ensure that you burn your calories for the day in one way or the other. So if you had a late night and missed morning gym, simply go for a brisk evening walk. If on vacation, walking for sightseeing instead of taking a hop on hop off bus will help you enjoy your vacation and also keep the weight away.
Eat smaller portions – When on a holiday, you are not going to live on tofu and green salad leaves, however, you do not have to stuff yourself silly either. When eating party food, make sure you keep your portions small. So don't avoid the dessert tray but don't eat half the chocolate cake either. Eating small portions will allow you to relish the foods as well as not take in too many extra calories.
Drink healthy beverages – Instead of taking up on packed juices or carbonated drinks, try and keep your beverages healthy. Regular tea, ice tea, cold coffee, water and even red wine are better options than hard drinks, energy drinks and of course carbonated drinks. So if you feel like drinking something during the holidays, try and stick with the healthy options instead of the high calorie ones. In case you are having hard drinks, keep it on the rocks instead of making it even more high calorie by adding juices to it. So vodka with soda is a better option as opposed to a bloody Mary or even a screw driver.
Holidaying is a time for a lot of fun and enjoyment, but this does not mean that you have to gain weight doing it all. With just a few basic precautions you can keep the weight off and enjoy a great time with friends and family too. So once the holiday is over you will not be left feeling guilty and cursing yourself for having gained an entire tire around your waist.