In the memory of Natasha Munson, as she passed away last year.
With her books she definitely put a stamp on the world.
"Appreciate your life; it's God's gift to you."
Natasha Munson, Spiritual Lessons for My Sisters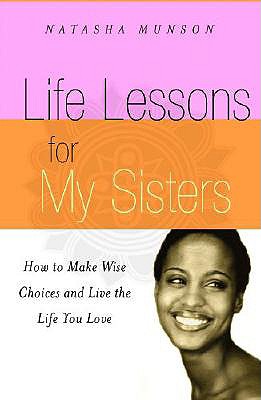 Life Lessons was created out of a need. A need to empower, encourage, and prepare women for life. Life Lessons for My Sisters is for anyone who has felt stressed or depressed about the choices they made in their life. It's for anyone who has felt overwhelmed and discouraged. It's for anyone who is struggling to change the course of her life. It's for those who are desperately trying to push a dream into existence. It is for the woman that needs to know how to say no, how to handle her finances, how to choose the right relationships and career. It is really a guide to becoming the best you, the best woman, possible. Life Lessons gives you the foundation to live a life you LOVE. If you have the self-published title then I thank you again and encourage you to purchase the Hyperion version, it s a beautiful book! May is the month of mothers so please buy a copy today for yourself and for a couple of mamas that would love to have inspiration, motivation and empowerment. Life Lessons makes a wonderful gift and I guarantee the mothers will love the book. The insightful author provides an inspirational road map for women who want to lead a more meaningful life.
Searching for a life blessed with peace and happiness? Longing to move past old expectations and learn to live in the moment? Life Lessons for My Sisters is an inspirational guidebook and valuable resource for women who want to live a more meaningful life. Based on Natasha Munson's own personal experiences, the book was written to help young black women avoid many of the pitfalls she herself encountered on her road to adulthood. Written in pithy, inspirational chapters, each concluding with a wise observation about life, the book offers simple advice that women of all ages and backgrounds will appreciate and respond to.
Written by Natasha Munson, Author of Life Lessons for My Sisters: How to Make Wise Choices and Live a Life You Love!
Buy it from Amazon