Meet The Characters :: Chapter 1 :: Chapter 2 :: Chapter 3
The air smelled of salty sea and what was left of the setting sun mingled gently with the dark clouds of night that were moving in. There wasn't a hint of wind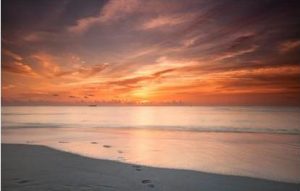 leaving a reassuring calmness in the atmosphere. Tiffany set back in the wicker chair and let her newfound freedom wash over her. When had she last felt this free? Ever? No way! She had always sensed the freedom she longed for but had never really felt it thanks to the pre planning of her entire life by her overbearing parents. Her mother would never approve of her leaving Jake. He was exactly the kind of man that her mother wanted Tiffany to end up with. Rich, powerful, successful, handsome and completely controlling. He knew exactly how he wanted his wife to look, act and all together live and he made sure that Tiffany met his expectations of a suitable wife. In return he provided all the materialistic wealth any woman could ever dream of. She lived like a queen. But there was one thing that Tiffany wanted, had always wanted that her parents and Jakes money combined could never buy her. Freedom. She wanted to make her own decisions and live her own damn life. And now she had taken the first step. She had finally left Jake. And as she sat back in her chair on her wrap around porch facing nothing but sand and sea she felt free at last.
"Mom! Mom!" Izzy came running down the beach, her long curls bouncing all around her as she ran. Tiffany sensed the urgency in her daughter's voice and any peace that she had soaked up quickly washed back out to sea.
"Are you okay?" Tiffany had literally jumped off the back steps and was running towards Izzy. Had something happened to Pres? Tiffany scanned the beach searching for her son but he was nowhere to be seen. Oh God! That was the last thing she needed her first night of being on her own. If something happened to her kids already she would surely be deemed an unfit mother and Jake would take the kids.
Tiffany closed the distance between her and Izzy and held Izzy by the shoulders as the little girl breathlessly explained to her mother that she and Preston had found a dead woman just up the beach behind some sand dunes.
A "dead woman?" Tiffany felt her heart begin to race as a wave of panic swept over her. If her kids had come across a dead body behind a sand dune, where was her son? What if the woman had been murdered and now the murderer had Preston? What if the woman was playing dead in order to lure the kids in closer so she could snag them and sell them to some kind of underground human trafficking ring? The worst case scenarios continued to flood her mind and Tiffany pushed them aside before the panic got the best of her. Should she call the police first? No, Preston was out there and the police would take too long. Before she could decide what to do first, Izzy had taken off and Tiffany was running after her, cell phone in hand. She managed to explain the situation to the 911 operator without falling face first in the sand. They would be there shortly.
Izzy stopped short of a row of sand dunes leaning over with her hands on her knees trying to catch her breath. Tiffany stopped at her side just long enough to instinctively survey the scene for any immediate signs of danger. There was no one in sight. No buildings, no lights or sign of modern day life. Nothing like the big city full of lights and bustling traffic flowing with urgency to get somewhere that she was used to. All she could see til she could see no further was sand and ocean water separated by a never ending shore. Sea gulls bellowed from above and for just a split second she was overcome by peace. No matter what humans created, it could never be more powerful than Mother Nature.
"Mom! Over here Mom!" Pres stood off in the distance waving his hands in the air. Tiffany turned to Izzy and lovingly demanded that her daughter stay put until she said otherwise. Coming closer to where Preston stood, she could see the very tip of a foot pointing out from behind the sand dune. Oh God, was there really a dead woman lying there? She wanted to call out to her son and tell him to run away from there but fear had somewhat of a grip on her and it was all she could do just to keep moving towards the foot.
Summoning one last burst of bravery, Tiffany closed the distance between her and the foot. Lying in the sand was a woman. Her long brown hair sprawled over one shoulder in a twist as though the she had wrapped it around her fingers as a means to keep it from blowing in her face. Her dirty hands were crossed over her chest and her legs carelessly stretched out underneath her long white dress. Her dress reminded Tiffany of a wedding gown but it was worn, dirty and tattered along the edges. Something about the girl seemed so misplaced. Like she was too beautiful to be here. Tiffany carefully knelt down beside the young woman not quite sure what to expect but one thing was for sure. She was definitely not there to lure any young children into a human trafficking ring. She looked too innocent for something so horrible.
"Pres, move out of the way." Tiffany placed the palm of her hand on the woman's chest and was relieved when the expansion of lungs displaced it slightly. "She isn't dead."
"But she won't wake up. We tried to wake her up and she won't." Preston reasoned out of his own confusion. He was kneeling down beside his mother now glancing from Tiffany to the woman lying in the sand.
"Pres, she's breathing. She isn't dead but she's passed out for some reason. I want you to go get your sister and bring her over here. The police will be here soon and they will want to talk to you both." Preston ran off towards his sister who had stay put the whole time and not even a minute later Tiffany could hear sirens closing in on them.
A police officer followed by two paramedics hurried through the sand towards Tiffany and the woman who was still unconscious. The policeman instructed Tiffany to back away as he did his own survey of the scene. The policeman, his hand on the holster resting on his hip leaned over the young woman. A few seconds later, he turned to the medics who waited patiently shaking his head in disappointment.
"It's just Natalie." He said. The medics walked without urgency to the woman and began working on her. "Just Natalie?" They obviously knew her but the way the officer identified her with so little concern irritated Tiffany. Who knew how long she had lain there in the sand or what was even wrong with her. She could be dying and to them the beautiful young girl tainted with dirt stains covering her dress was "just Natalie" like she wasn't anyone important.
As though the officer had read her mind, he walked over to Tiffany and explained to her that the girl was a local beach bum who had regular run ins with law enforcement due to her drinking and drug use that led to passing out on the beach and disturbing the finer folks of Lost Island beach. He tipped his hat to her in respect and turned to walk away.
"But don't you need to question us? How we found her?" Tiffany asked.
The officer turned and grinned amusingly before answering her ever so politely "No ma'am. We know this scenario all too well. She'll be taken to Lost Island General, treated and released. Hopefully this time she'll get it together. Her story is a sad but hopeful one." He paused for a moment glancing down at the sand as though a concerning thought occurred to him. Then he looked behind Tiffany at Izzy and Pres who patiently waited for their mother to join them. "Take care of those kids."
Before Tiffany could reply, the officer was walking away again. What did he mean? Why was the woman's "story" a sad one? Who was she? She was young and beautiful and there was a fallen energy about her that Tiffany could sense. The dirt that covered her once pure white dress was foretelling of a misadventure. But what? What could be so sad that a young and beautiful girl with her whole life ahead of her would turn to drugs and passing out on the middle of a beach where she was vulnerable to all kinds of misfortunes? And from what the officer had said, this wasn't the first time the girl had put herself in such danger. Perhaps it was luck that two good hearted kids had discovered her and gotten help or perhaps it was something more.
Just as Tiffany turned to walk back to her children something caught her attention. She turned to see a sharp blindingly white corner of something sticking out of the shrubbery not far off from where the woman had been laying. She pulled her cashmere wrap tightly around her shoulders and walked back to the scene where the object waited to feed her curiosity. Catching her eyes first were the pearl white seashells that decoratively covered a picture frame. They were so white that her eyes almost hurt to look at them. The frame was an 8×10 and though the shells were intriguing enough, it was the painting they held that stole her breath. It was so lifelike that it almost looked more like a photograph. A young woman standing under an apple tree wearing a long white dress that looked like a wedding gown. Instinctively Tiffany took a closer look at the woman's left hand. No ring. She was smiling though and it lifted her golden cheeks with enthusiasm. She looked full of life and a little boy, not more than 4 years of age sat in the tree just above her head with his legs dangling over the woman's shoulders and his arms resting on the top of her head. His long wavy blonde hair clung to his chubby cheeks and the length of his grin stretched between two tiny dimples. His big blue eyes looked out at his audience with content, happiness and love. There was no doubt in Tiffany's mind that this was a picture of a real moment shared between mother and son. There was no doubt that the happy mother in the picture was the same woman who just moments ago laid out in the sand completely unconscious due to an overdose of some sort. Tiffany turned the painting over. On the back in black inked cursive letters was Forever and ever…love followed by a sideways figure 8. This painting had to mean something to the woman…to Natalie. She carefully picked it up and held it close to her as she turned to rejoin her children.
That night she thought about the woman in the sand. Natalie. Her painting that now rested on the dining room table in the kitchen. Where was her family? The boy in her picture? He had to be her son but where was he while she was busy getting high behind sand dunes on a remote beach? Tiffany caught her breath as she thought about the possibility of the boy being dead. Maybe she had lost her son to some tragic death and unable to cope she had turned to drugs. They looked so happy in the picture. She silently hoped well-being would find the young mother again. And that her son was still alive.
And for her? Twenty four hours ago she had held Jakes hand in hers as she told him she was leaving. Her bags were packed and being that it had been the last day of school, the kids didn't think it was unusual that they were going on a "long vacation with mom". Jake had done his best to pretend that he was amused by her stand for independence but she could sense the worry that he was hiding. Out of guilt she agreed to stay at their beach house but only if he promised not to send any of his "assistants". He had and he made sure she knew that he had full expectations of her return once her "phase" was over.
No. This wasn't a phase. She hugged her legs close to her belly in comfort. She would never go back. Her life was hers now and tomorrow would be the second day of her new life. And she would begin it with returning a missing piece of a mother's heart.
Meet The Characters :: Chapter 1 :: Chapter 2 :: Chapter 3