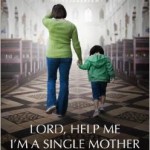 Lord, Help Me, I'm a Single Mother is a memoir and collection of poetry about a single mother and the struggles she faced. The life of a single mother ever challenging as you must be both a mother and a father. It is nearly impossible to imagine raising children on your own, but when you have to, either you step up to the challenge or you run away. This is a single mother's story of how she had dealt with issues including child support, deadbeat dads, childcare, and living on public assistance to make a better life for her children. At the same time, she asked God to help her deal with the pain and hurt that she had endured by handling all the responsibilities on her own. Ava Montgomery found she must stand on her faith and trust God to lead the way to endure and be a good parent.
Lord, Help Me, I'm a Single Mother is a tribute to all the single mothers who take care of their children every day and make sure their child is happy and stable.
A book by Ava Montgomery
Lord, Help Me I'm A Single Mother
(Excerpts – from Preface)

Jeremiah got sick last night. We have been in the hospital since 4:00 p.m. and its 1:00 a.m. now. I will only get six hours of sleep and then I have to get up at 6:00 a.m. to go to work. They have to eat, get dressed, get their hygiene together and get dropped off at school.
Lord, I am so tired. I never would have imagined this being my life. Three kids, working, going to school, and on top of that, I am a single mother. A single mother is not a job that you dream of having when you are a little girl. Like me, I bet you can remember playing with Barbie and Ken or watching Cinderella and saying one day that will be me and each of these fairytales ending so happily.
I had big dreams growing up. I wrote for the school newspaper and I wanted to be a great journalist when I grew up. In the movie of my life, I knew that I would be the next Oprah Winfrey. I would be married to a real prince charming and we would have two children. The part of the movie where I would be alone and raising my kids by myself was never included in the script.
About the Author:
Ava Montgomery was raised in Vivian, Louisiana. She is a single mother of three amazing children — Kameron, Jeramiah, and Javin.
Ava received her Bachelor's degree in Business Management from Wiley College in 2012. Currently she is pursuing her Master's in Human Services.
Ava was a Welfare recipient through the State of Louisiana and now she is working for the Department of Children and Family Services. She loves being able to go to work to help women believe in their dreams.
Ava is actively involved in her church community; she is a member of Emmanuel Baptist Church in Shreveport, La. Ava plans to open a women's shelter to provide temporary assistance to low income single mothers.
You can read her story in the newly published book Lord Help Me I'm A Single Mother through bookstores nationwide, from the publisher at www.tatepublishing.com/bookstore, or by visiting
barnesandnoble.com or amazon.com.