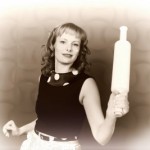 I did go to college. I did everything that one is 'supposed' to do. I finished high school; I went to college, worked for a year after college and then got married and went on to have two kids in the next five years. In short I lived the text book life. But was I happy? Actually far from it! I hated my job. I had studied geography in college and was working with a NGO that was working towards the conservation of forests in the country. My work hours were 9 to 5 and I was able to give my kids the attention they needed and all of that. But when it came to having job satisfaction, there was none.
My husband was an attorney who kept very busy hours and many women during these hours, which I would choose to be ignorant about. On the face of it everything was it is supposed to be. Of course we had grown apart but then that was the general trend I saw around me and so took the whole scenario as the natural unfolding of events. If things got too bad, I would pop in a sleeping pill and sleep it off. There was wine of course but I would not tilt that way too much. My sister who lived a few houses down the lane would often say that my frantic baking would tell her that I was in a bad mood. All in all, I was dealing with my life till the accident happened.
Rushing through one of my usual busy morning, I slipped and came tumbling down a flight of stairs. I was in coma for three days and my entire recovery took more than two months. It was during this time that I realized how unhappy I was with my life. All I had been doing for the past half decade was life for the family and had completely forgotten about myself. The fact that I could have almost died jolted me in some way. I did not return to my job even after the recovery. A part of the recovery program at the hospital was a psych consult and it did a lot of good for me. My husband of course had a difficult time dealing with all of this and the elephant that I had been hiding under the carpet came out. A few weeks later my husband had filed for divorce on the grounds that I was depressive. The interesting thing was that he was willing to give custody of his two kids to this 'depressed' woman.
My medical records, the fact that my husband was an attorney and my jobless condition all went against me. I did not get much in the name of either alimony or child support. My husband won shared custody and by the end of it, I realized that this divorce had worked out rather well for my ex. My sister would come in often to help with the kids and cheer me up. She encouraged me to get back to my old job but the thought of going back was killing. Then over coffee one day, my sis jokingly said that I should be a baker since I am only happy when baking. This got me thinking.
I did enjoy baking and despite the fact that I had no formal training, I was pretty good at it. Of course if I was to go commercial with my baking, it was important that I got some formal training. So I began to look for chef schools. Amazing there were several options and many of them were specifically catering to teaching baking. After careful comparison I decided to join a baking course that extended over a period of 16 months and also included a training session in hotel management.
The course was pretty steep, but I had some money saved up and so decided to go for it. For the first time in years I remembered being happy. I really looked forward to go for the course. In fact on weekends I would practice all that I had learned in school all week and was so excited with the results. Time just flew and before I knew it I had graduated from the bakery course. I applied for a few jobs and bagged a pretty good one with a five star rating hotel. Today three years down the line, I am truly happy. I love what I do. I have saved up enough to open my own bakery. I am making very good money and most importantly I really enjoy my work. I find time to hang out with the kids. I can follow a social life and baking truly uplifts my mood in more ways than one.
Today when I look back I do flinch a bit on the number of years that I wasted trying to walk the beaten path. Happiness is a personal thing. It does not follow a blanket rule. What may work for me may or may not work for you. The idea is to identify what you have fun doing and then do that. Today I make much more money that I did working as a geologist. I have much more fun too and am much more appreciated also. If I had done this course after high school my life may have been different.
Most of us presume that college is the only way to make a decent living. Nothing could be further from the truth. I have walked down both paths and will definitely recommend taking some time to figure out what you like and then following that road.