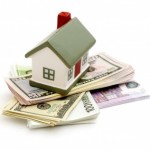 I've been looking for a bigger house for years now.  Unfortunately for me, prices have risen sharply in my area.  I've fantasized about a certain house that was way out of my price range, but I haven't had many realistic options.
I said that there was a house that I'd love to have but that I couldn't afford it, and my aunt encouraged me to make an offer on it.  (She had apparently gotten her $150,000 house for only around $60,000 simply by making an offer on it since it had been listed for so long with no other offers.)  I didn't think that would work with the house of my dreams.  It was to perfect, too expensive, too great for me to consider realistic.
After many months with no realistic houses coming up for sale, I finally got the courage to call the realtor.  I asked him if he knew the lowest the owners would take for that certain house that I'd had my eye on for quite some time.  It had been on the market for over 3 years with the price dropping slightly every so often, and the owners weren't living in it.  Maybe by now they'd just want to be rid of it.
I didn't have an actual price in mind, but the realtor kept pushing me (nicely, but persistently) to say a number, so I asked if they'd be willing to take half of their asking price.  I couldn't believe I'd said it, and feeling quite embarrassed, I waited for him to either laugh at me or be offended.  To my surprise, he said "You know what?  Let me get your name and number, and let's see if we can get this going for you".
I don't know if he was just being nice or if he actually took me seriously, but either way it gave me hope.  To be honest, it's been about a week, and I've yet to hear back from him.  Maybe I will.  Maybe I won't.  If I do, it might be to tell me that my offer was rejected.  It could be to tell me that my offer was accepted.  Oddly enough though, I have peace about it.
Of course I want the house, but that's not what I've been praying for.  I want to be where God wants me to be.  I want Him to either open the door for me or slam it in my face.  Either way, I just want to know.  And no matter what happens, I'll be okay with it.  A month ago, I wouldn't have said that, but through prayer and attempted obedience to God's will, I have peace.
Like I said, I don't know what will come of this, but I do feel that it never hurts to make an offer.  Maybe your offer will be accepted.  If not, the worst someone can tell you is "no".
Article by Randi Millward