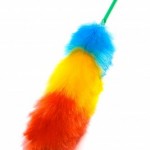 Dusting the house is a chore that many of us hate. While we have many applicances to help us wash our clothes and tools to mow our lawns, there seems no easy way out of the dusting mess. Yes, there are the vacuum cleaners but those will not help clean the dust off the mirrors, flower vases or even the fridge for that matter. Indeed dusting is a chore that requires a good old soft duster and two busy hands.
While we do not have dusting machines as yet, there are still a few ways in which we can make dusting easier. Some tips listed below will help in your dusting chores.
Choose the right tool – When it comes to dusting, the tool is very important. If you take dusting cloth and try and dust a lamp with several grooves, it will frustrate you no end. The cloth is unable to get into the grooves and this means that you will need to sit down and clean each groove individually. On the other hand if you opt for a feather duster while cleaning a lamp with grooves, a few short and simple flicks over the lamp should do the trick. The duster on the other hand is much quicker in cleaning flat surfaces like glass tables, windows and ever the television and fridge surfaces. So depending on the area you need to dust pick out the right tool for it.
Remove the smaller stuff – When dusting a room, it is the smaller knick knacks that take longer. Instead of placing them all over the house, display them in a closed glass window shelf so that you do not need to clean them every day. In case you still wish to display the smaller items, pick them up and place then in a safe area while you dust. Once the dusting is over, simply clean them with a dusting cloth and put them back. This will make sure that you will not need to break your dusting rhythm every time you come close to a small display item.
Use props- Using props like wax oil and even long sticks helps to make the dusting easier. The wax oil needs to be rubbed on to the cleaning cloth and then go about with your dusting. The wax oil attracts dust and makes the chose much quicker. A long pole attached to the dusting cloth or the feather helps you reach far out places with greater ease. So if cleaning the fans, use this prop, instead of climbing on to a ladder to clean by hand.
Dusting is no doubt a difficult chore but it needs to be done. With these tips you will be able to speed up your dusting process without compromising on the quality of the cleaning. Remember that old t-shirts make for great dusting cloth, since they are soft and attract dust particles with great ease.