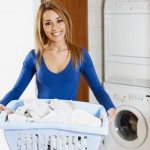 With all the appliances and electronic devices to make our life easier, laundry is the one thing that gives us the jitters even today. There is something about laundry that is very cumbersome and time consuming. Most homes with more than four family members will end up doing at least one load of laundry in the day. Since we all need to wear clean clothes, there is absolutely no doing away with laundry. Here is some advice that will make the task a lot easier.
These tips will help make doing laundry a smoother sail and also ensure better results:
Wrinkle ease – There are times when leaving the clothes in the drying can make them all wrinkled and creased. This will mean that you will need to iron out each and every garment in order to straighten it out. If looking to save time here, simply toss in a wet towel with the dried clothes and turn on drying for 10 minute. The wet towel creates the necessary steam and your wrinkled clothes will come out looking straighter and will be much easier to iron out, if that is still needed.
Drying tips – In case you need to dry your wash load in a hurry it will help to throw in a few dry towels into the wet clothes piles. Towels have a tendency to soak up water and they help to lessen the moisture content of the drying load. This means that you clothes will dry up much faster than otherwise.
Delicates – Often we will need to wash the delicates separately since they cannot be washed with the normal load of clothes. Needless to say, this means added effort and makes the laundry cumbersome. A great trick that works in this area is the pillow cover. Simply put all the delicates into a pillow case and tie it with a rubber band. Toss it with the normal load and your delicates will be cleaned up without any wear and tear either.
Colored versus whites – Another huge problem while doing laundry is to sort out the colored clothes from the white ones. Again, due to the danger of bleeding colors we need to sort out the two piles. It will help to test if the fabric does bleed by washing a small end of the garment and damping it with some dry cotton. If the cotton picks up the color you will need to wash the garment separately, or else it can go in with the white pile too.
Hairy – There are times when you may need to wash things that are hairy, for example soft toys, bath mats, etc. Again here the trick is to use a pillow case or a net bag to hold the items in place and then ryb a delicate fabric cycle. This will save you a trip to the dry cleaners and the results will be just as good.
Keeping the laundry organized and in separate piles from day one does help to make the laundry day much easier. While there is no denying the fact that organization does play a huge role in controlling the laundry day woes, the tips listed above also go a long way.