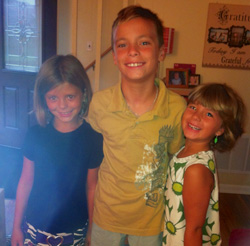 Gianna, Anthony and Alexandra are May's Kids of the Month
My son is my hero.  Being diagnosed with autism at an early age, he has overcome many of the obstacles that have barraged him.  He is now playing baseball in our home town.  A team sport!  My girls are beautiful little ladies.  They support their brother and are the best mommy-helpers!
I love you all so very much.  Bigger than the earth…forever and ever…and always and aways.