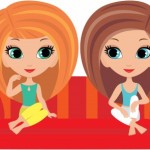 When we met for the first time, both of us were the 'strange ones' in the group of moms. There were other single moms at that orientation too, but we were the only ones who had never been married. Sarah had never planned on a baby and I had actually chosen a sperm donor so that I could become a mother. Sarah was a good five years younger to me, but the fact that the two of us were the odd ones there got us talking and over the coming few months we became good friends. With both our girls going to the same kindergarten, we would have enough opportunity to meet up and talk.
Sarah was a secretary in a construction company and I was a paralegal. We both had our fair share of single mom problems but were doing a good job of balancing a career and being a mom. Then the construction industry crashed and Sarah lost her job. She was devastated and no matter how hard the two of us tried we could not find another decent paying job for her. Things became so bad that Sarah had to leave her apartment because she was unable to pay rent. During this time our daughters had grown close and so had we. So despite having a small two bedroom apartment to myself, I asked Sarah to move in with me and to this day I am glad that I made that offer.
Then the economy came crashing down and I had to see my salary go down. Sarah had taken up a part time job in a local restaurant and she was not sure she would get to see another week. She was looking to apply at the local mall but that was not going too well either. I owned my home, but was still making payments, and there was no way I was going to be able to pay up with this salary. There was no asking Sarah since she was barely making enough to cover her own expenses.
I knew time had come for foreclosure, and while it scared the hell out of me, I was also worried about what would happen to Sarah and her baby girl who had by now become a part of our family. I spoke to Sarah about it and things got really depressed at home. Not knowing what else to do I told Sarah to use these weeks to find some place for herself at least since I may actually have to move in with my sister for a few weeks till I figured this out.
I remember Sarah sitting for long hours on the computer and then one evening she called me in and showed me a link http://www.singlemom.com/assistance-buying-home-and-guide-avoiding-foreclosure/. It was about avoiding foreclosure and tips on assistance buying. Sarah laughed and said she was a good secretary and was built to solve problems. We searched and researched some more and then presented the information to me. After meeting a lot of bankers and talking to financial advisers, we figured out that we had the option to short sell but there was no avoiding foreclosure.
From looking at ways to prevent foreclosure Sarah jumped into looking for housing options for single moms and I went into high gear in trying to short sell the apartment. With both of us putting all our efforts into this area, we managed to find housing options also and I got some money out of the sale as well.
Then we moved into housing for single women. Things were not too difficult on the girls since they were together. Having another parent on board with me who could fill in while I was at work or look after the girls when I had a report to file, was a huge help. Sarah had taken up two jobs now and she was able to do so because I was there in the late evenings to take care of the kids. Despite being single parents we were pulling along fine because we had formed a support system for each other.
With the economy picking up things are getting better for both of us. I have managed to get a better paying job, and Sarah has also landed herself a secretary's job once more. We are still at the single mothers' home complex, but if things continue like this we could soon be looking at renting an apartment of our own again.
Even today when I think back I know for sure that I would have not been able to manage things by myself. It was Sarah's persistence, her skill in searching things and her efficiency that got us information on the many solutions that we could adopt in order to get out of the financial mess. I did my part by using my contacts from my job and my bankers in ensuring that we were able to make full use of the options that Sarah located for us. So as a team we moved through things.
As a single parent, I do urge other single moms to try and find sites and groups where they could meet other single mothers. It helps to know others who may be in a situation similar to yours. A similar mind set, a similar situation in life can lead to great friendships and there is strength in numbers after all.