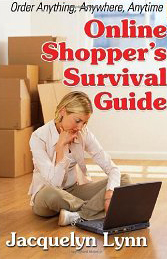 A comprehensive guide to buying on the Internet, Online Shopper's Survival Kit will teach you how to effectively and safely shop online for just about anything. With input from expert buyers and sellers, it discusses strategies for getting a great deal on online merchandise, including the top categories, like cars, real estate, and travel services. It reveals how to recognize and avoid scams and frauds and discusses consumer protection issues.
Shopping online is the easiest way to find the lowest price for whatever it is you want. But there are plenty of ways to save money besides just getting a good buy.
The following is an excerpt from the book "Online Shopper's Survival Guide"
• Sales, specials, and closeouts. Just like brick-and-mortar stores, online retailers often have sales and reduce items to clear out their inventories. Check your favorite sites regularly, or sign up for e-mail alerts.
• Manufacturer rebates. Rebates are not limited to traditional retail transactions — you can get them with online purchases as well. To find out what rebates are being offered by which manufacturers, visit a rebate-tracking site, such www.rebateshq.com. But if you find a rebate and use that in your decision-making process, be sure to follow up and file the necessary forms to get your money. Manufacturers know many of their customers won't bother.
• Online coupons. Online coupons work the same way paper coupons do, except that instead of handing a cashier a slip of paper, you enter a code during the checkout process. Many merchants issue online coupons for various types of discounts; you'll find them in catalogs, direct mail pieces, and even in the inserts with your order (a way to get you to buy again). You can also find coupons at web sites designed to help you save money. My friend Brian Lewis offers this advice, "Shop and find the best deal on what you want, then go looking for a coupon to bring the price down even further." An interesting note is that Brian says he feels cheap when he uses a coupon in a brick-and-mortar store but not when he's buying online.
Online Coupon Sources
The following sites are great sources for finding promotional codes and special offers that can save you big bucks:
• www.Savings.com
• www.ableshoppers.com
• www.coolsavings.com
• www.couponmountain.com
• www.currentcodes.com
• www.dealcatcher.com
• www.dealhunting.com
• www.dealtaker.com
• www.fatwallet.com
• www.hotdealsclub.com
• www.shoppersresource.com
• First-time customer discounts and specials. Many e-tailers offer special deals to customers making their first purchase. Those deals might be a discount of a flat amount or a percentage on that purchase, a coupon for discounts on future purchases, free shipping, a free gift, free gift-wrapping, or whatever. If you're making your first purchase from a particular merchant, check around the site to see what sort of bonuses are available.
• Free or reduced shipping. In general, the buyer pays the shipping for online purchases, but merchants often offer specials on their shipping rates just as they do on their products. An increasing number of merchants are offering free shipping, or free shipping with purchases over a certain amount. A site I buy from occasionally offers special shipping deal of 99 cents during a specified period, no matter how much you order. A friend of mine orders regularly from a few sites that periodically offer free shipping; she waits to make all of her purchases from those sites for the time when she won't have to pay shipping.
• Have your entire order shipped together. If you're buying more than one item from a site, it's possible things will be available at different times. Some sites charge the same total amount for shipping regardless of when various items go out, but some sites charge more if they have to make separate shipments. In those cases, requesting that everything in your order be shipped together can save you money. Also, if you're not in a rush and the site offers shipping choices, choose the slowest — it's usually the cheapest.
• Get on merchants' mailing lists. Many merchants will ask if you'd like to be on their mailing lists. If this is a company you expect to buy from again, say yes. You'll get notices of special sales, clearance items, coupons, and other special offers.
Reprinted from Online Shopper's Survival Guide by Jacquelyn Lynn. Published by Entrepreneur Press. Copyright © 2006 Entrepreneur Media Inc. August 2006; $19.95US; 1-59918-024-3.
Excrept by Jacquelyn Lynn – Author of Online Shopper's Survival Guide
Buy it from Amazon