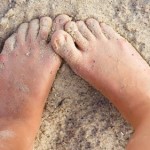 Dried skin, especially cracked heels don't just look bad, they can hurt severely too. Right from foot fungus to dry feet, all foot related problems are not just cosmetically unpleasant but they also can be real painful. While there are certain medicated creams and powders that help fight these problems when they do occur, a few natural precautionary measures help to avoid or heal skin conditions.
Since prevention is any day better than cure, these natural foot care tips go a long way in keeping your feel looking and feeling good:
Moisturize – Your feet need to be moisturized regularly so as to stay away from dryness and cracks. While most of us will grab a commercial foot cream for this purpose, these may only make matters worse. A large tablespoon of heavy cream mixed with two drops of lavender oil makes for the perfect foot moisturizer. Simply apply the cream and leave it on for about half and hour. You can clean the foot with a clean towel and some warm water. Do not use soap to wash of the area since this will negate the effect of the cream.
Clean and air – The one common reason for almost all feet related skin issues are dampness and dirt. It is important to keep your feet clean and also air them out fully. If you use nail polish, remove it from time to time and let your nails breath. During winter time, when we often wear socks, even inside the house, make sure you take off your socks and air your feet out regularly. This should be done after a workout.
Sanitize – Our feet tend to pick up a lot of germs since they are often in close contact with the ground, especially in summer when we wear sandals and flip-flops. These germs if not removed in time will penetrate our skin and cause problems.
Scrub - Feet need to be scrubbed in order to remove the dry, dead skin. If not removed, then the dead skin can accumulate and create a thick layer of dry skin, which can easily crack and even bleed, if the cracks are deep. The heels and toes demand extra attention in this area. Simply dip your feet in some warm water to soften the skin, then scrub the dead skin off with a soft foot scrubber. Repeat about every two weeks to keep your feet smooth and soft.
Of course aside from the above tips it is also helps to avoid synthetic socks and always wear shoes that are comfortable for the feet. In case you find that a shoe is giving you a corn or a scab, do not continue to wear it since this little injury can turn into a painful and ugly sore.