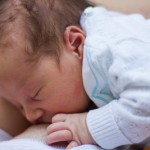 If you are a feeding mom then the New Year party is definitely on your mind at this time of the year. Wondering how you are going to manage with the baby is one aspect, while on the other you will worry about what to wear and how to keep your breasts from leaking during the party. While these worries are all very normal, there is a way to get around these problems and enjoy your party to the fullest.
Some tips below on what feeding mothers need to keep in mind, when stepping out to party this New Year's Eve:
Pump milk - Since the New Year party is going to last long, it is important to pump your milk and keep it ready for the babysitter. Begin from two days before the party. Once the baby has had her full feed, use a breast pump to pump out whatever milk maybe left in the breast. Over two days you will have enough to allow for four to five feeds of the baby, if not more. Even in cases where you plan to take the baby along to the party, it will help to pump milk since you should not feed the child while you are drinking alcohol. Even spicy foods may bother the kid and so it is best to be prepared with pre pumped milk.
Dispose after alcohol milk – The one mistake we often make is to begin to feed the baby our milk once we are back from the party. Remember alcohol stays in our system long after we drink it and this is why it is important to throw away breast milk for the next two feeds from when you consumed alcohol. So even once back from the party, it is important that you pump your milk and throw away the feed if you had consumed alcohol during the celebrations.
Wear breast pads - New Year parties tend to go on for much longer than regular get together and this is why despite having cleared your breast at home you may suffer leaks during the party too. It is crucial that you wear breast pads to avoid embarrassing moments.
Clear out milk - Despite breast pads you will need to clear out your breasts of the milk or else they are likely to start hurting. Simply squeezing them clear in the washroom will rid you of the engorgement and allow you to dance and move around freely. It will help to wear clothes that allow you to easily release your breasts of the milk so as to make it simpler for you to do so.
Feeding moms need to stay indoors and have a boring New Year's Eve. Right from an all night party to even a few hours spent with friends and family, you can enjoy it all. Simply keep the above tips in mind and organize for goo child care and you should be good to go.