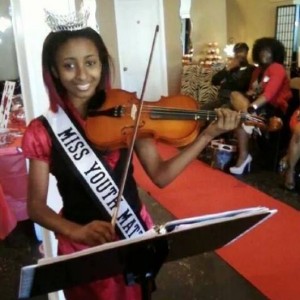 I am so proud of my daughter. For the second year in a row, Clara was selected for All-City Orchestra. It is a musical honor bestowed upon students from the various middle schools in Chesapeake, VA, who have proved through stellar grades, class work and playing tests, that they are the best of the best.  The only thing left for my 7th grader was to audition for her seat in the violin section.
Although the location of audition was far from where we live, I had our ride all mapped out. A friend –who normally takes me everywhere I need to go in the interim of getting my car — would get us to the middle school at 4:30 pm. Assuming Clara would be the first one to audition being that she'd arrive early, she would play the piece assigned by her orchestra teacher as well as sight read a selection, and we'd be out. My plans didn't work like that I the least bit.
It turns out that my friend would have to pick up his daughter from track practice at 4:30 pm because her grandmother wasn't going to be home to get her. And, at this time of the afternoon, he wouldn't even be able to get us there by the deadline of 5:30 pm because of the bumper-to-bumper traffic. He would have needed to leave from our area at 3 pm to beat the car drama. I reached out to a neighbor from my apartment building to help me out. She was all for it until she, too, realized how far out the audition was. "Trying to get over there at this time of the day is not going to happen," she said straight, no chaser. Inside, I was crushed. But, on the outside, I kept my composure – for my daughter's sake. I didn't need the both of us crying.
Getting there was so important to me because students who didn't audition would be placed in the back. Clara seemed to be a good sport about it. "It's okay mommy," she said in a comforting voice. "At least I made All City." That was a good point. Still, it didn't erase the hurt and disappointment I felt. I was mad at myself because it was my responsibility to get my daughter there. "You should have a car," I screamed at myself in my mind. "Everyone else seems to have one". My anger turned to tears. Oh, and they were heavily flowing from my eyes. I tried to wipe them away, but they kept coming.
I decided to take a walk to calm myself down and get it together. Walking is therapeutic for me. It allows me to release, think and strategize. I ended up walking to my favorite thrift store where I picked up a knit turtleneck A-line cut dress for $1.50 and ended up having  a wonderful conversation with an elder who is a fellow avid thriftier. She truly lifted my spirits. She was so comical. When I walked out of the store, not only did I have a fabulous dress but a renewed mindset.
I know that things don't always work as we plan them and we have to deal with that. After all, that's life. However, I am determined to get a car by April so that I can lesson the stress. It's just me, Clara and Isaac. So, it is extremely imperative that I can provide for them in every way, including having a reliable ride to get them where they need to go.
I share this very personal experience with you, my dearly beloved single moms, because I want you to be encouraged. Yes, it is oftentimes challenging having to do it all. But, with God's grace and a tenacious spirit, we will always win in the end. What I also received from this situation is that I am raising a resilient child. Clara could have pitched a fit and blamed me for causing her to be placed in the back where no one would be able to see her on performance day. Instead, my first born embraced at "keep it moving" attitude. And, in that, I feel real good.
I tell you this much, though… When April 4th gets here, I will be sitting in the front row to see Clara perform. It doesn't matter where she sits because I will be there to support her. In the end, that's what really matters.
Written by Feona Sharhran Huff