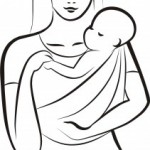 Most of us are well aware of the importance of nursing a baby and the several benefits of mother's milk. However, not many of us know how to nurse a kid. New mothers can have a very tough time trying to feed the baby while learning the other ropes of motherhood.
Some simple and easy tips listed below will help to make the nursing process easier:
• Comfort
First things first, you must learn to stay calm during the nursing. Babies tend to sense a mom's discomfort and will often not feed well if their mother is in a hurry. Make sure you are in comfortable surroundings, are sitting in an easy posture and your mind is in a positive disposition.
• Hygiene
Cleanliness is paramount, and this is very true when nursing a baby. Clean the nipple well and make sure there are no threads or fabric particles attached to it. Wiping the area off with cotton dipped in warm water is a great way to clean the breast before you start nursing.
• Grip
When nursing a baby it is crucial that the infant latches on the nipple well. In case a baby has not latched properly it could lead to cracked nipples and improper suckling. The baby would also suck in too much air, which will hurt his stomach. For the right grip you need to hold the baby in a cradle position, by offering support under the neck and slowly guide it towards the nipple. The baby should take in most of the areola into her mouth.
• Burps
Most babies need to be burped in between feeds. So, once the baby has had half her feed, hold her up on your shoulder and rub her back gently. This will help to burp her quickly. Once the burp is over, change the breast and feed her for another fifteen minutes. In case you do not burp a baby, it is very likely that she will suffer a reflux and throw up the milk she had.
• Full feeds
A full feed for a baby usually lasts for about half an hour and comprises of 15 minute feeds from both the breasts. If the baby does not take a full feed, it is very likely that you will be feeding her more often than necessary. Most kids will fall off to sleep during feeds. It is important to wake the kid and finish the feed so that you are sure that the baby is well fed and fully nourished.
While it is good to feed the baby directly, there are times when the milk will need to be pumped and fed via a bottle. Keep in mind that all of the above advice applies to this scenario as well. Sometimes there is the temptation to feed the baby while lying down. This sometimes happens during the night. Avoid this position; it tends to create problems for the baby. It also poses a suffocation hazard if the mom dozes off.
The benefits of nursing your baby are numerous, not the least of which is convenience. No formula, no mixes, no bottles to warm. In addition to this breast milk contains antibodies, which help protect the baby as well. Make any effort to nurse your baby.
PS