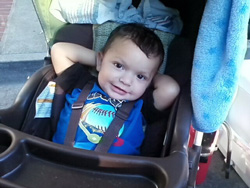 Ezrah James is October's Kid of the Month
His name is Ezrah James, born July 6, 2011. He's now 26 pounds and 33 inches long of pure love and joy. My curly haired, brown eyed  little guy is as independent as he is extremely attached to me.
He's still transitioning from baby to toddler, but he's still my baby.
(I still breastfeed him!)
He already has a passion for music as he loves to dance, especially to Samba.
(The movie "RIO" is his favorite!)
Ezrah also loves sports. Soccer seems to be an upcoming interests and he already completed his first level of toddler swimming!  Im just so proud of being his mother!
"I think about you even when I watch you sleep next to me.
You truly are one amazing little boy.
I cant imagine my life without you in it.
Your smile eases all my worries and pain.
There's nothing more rewarding than to hear your wonderful laugh.
When you look into my eyes and touch my face,
you're just letting me know that everything is gonna be alright!
We make a great team, you and me!
I love you with all of my life, soul and spirit, Ezrah!
You're just the best ever! MUAH"