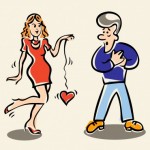 Single moms are so busy with work and kids and in some cases the only men they end up meeting are in the office. This often leads to an attraction if not a full blown office romance. Since as single moms we cannot afford to shake our comfort zones over and over again, it is important that we think the office romance through before going into it.
Let's take a look into how we can decide if the office romance is good for us or one that we will regret deeply later.
Office gossip – The first and foremost concern that you should have about an office romance is the office gossip that it is going to stir. Most people in the office will find out about the dating and it could lead to some tongues wagging. Such gossip is rarely in favor of the ladies and it could put your job  in danger too. If the person you are dating is in your department and you are in working in direct contact with the person, your work decisions may also come in the line of fire. This is a huge problem with an office romance that the entire office gets to know about it sooner or later. Worse still, remember, in case you guys break up, you will have to continue to meet each other at work and this could be rather weird.
Efficiency levels – An office romance means that you are likely to be working with the man of your desires and this could affect your efficiency levels. Think hard before getting into an office romance, since being in the same working space could lead to a downfall in your work and this could result in you losing you job too. Even if you do decide to pursue an office romance, it is important that you keep your emotions in control and do not take your dating to office. The office demands a certain code of conduct and your relationship could make your work suffer thus again jeopardizing your job.
Meetings – Of course there is the upside that office romances offer. You get to hang around with the man you like all five days a week. Working in the same place does give you the advantage of working and enjoying each others company. You will get to know the man in question in a more personal way since you get to see him everyday at work as opposed to just once a twice a week on a formal date. In fact noticing the man at work could be one the main reasons why you got attracted to him in the first place. Also dating a man at work means that you don't have to be too cautious since you know who he is, where he works and could find out a lot more about him from the HR department.
Office romances are not uncommon, but one tread with caution since they can affect your job negatively and this could have an effect on the rest of your plans.