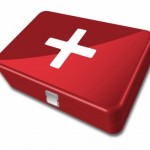 Family vacations are a lot of fun and help to create some fantastic memories. However those of us who have taken infants and toddlers on vacations know that it often happens that kids fall sick and the vacation plans are ruined. Since most of us plan family vacations well in advance and put in a lot of effort into ensuring that things go well, it does help to be ready with a few solutions, in case your toddler does get sick.
Below are some tips that will help out if your toddler gets sick on the family vacation:
First aid kit – Never take a trip, no matter how short without your child's medications. Basic medicines against fever, antiseptic, etc should be part of this medical kit. While you may presume that medication and first aid items will be available where ever you go, it is best to carry them with you, to have them on hand. In case you fly to your vacation spot, make sure you have that first aid kit, along with the toddler's necessities are in your hand bag, in case your luggage is lost.
Early signs – Keep your eyes open to catch any early signs of the oncoming illness. If you find that your kid is complaining of a tummy ache, or vomits during a ride or seems a bit low on energy, take action. Precautions like avoiding tap water, giving the child good amount of bottled fluids and rest and also giving the medication in time before the illness becomes full blown, will all help in this scenario. Do not ignore the toddlers early illness signs since if you catch the problem in time, you will be able to stop it early too.
Rest – Irrespective of whether you are at home or on a vacation, a sick toddler needs rest. When we are on a vacation, the desire to see all the places could tempt us to avoid this rest and this could lead to the problem worsening..
Toddlers are usually more sensitive when exposed to germs, so we need to pay attention when we take the toddler out of his usual environment. However, this is no reason for avoiding the vacation with your toddler. Just make sure you keep your cautions levels high and keep the kid well rested and you maybe able to avoid a problem.