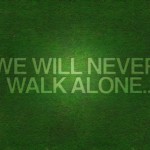 Hello single mothers out there. I have been thinking about everyone who does this job and wonder how you are doing? Isn't it nice to know there are people you have never met who think of you and send their love? Wouldn't this world be a lot brighter if we did that and spoke of it more often?
So today, I am reminding all of you that I think about you, your struggles, your children, your life, your worries, your fears and your joys. Just know I was there, years ago and went through many of the same struggles and challenges that you face everyday. You are never alone, though many times you may question that. You aren't.
Religion aside, faith and hope is something that you feel. Believe in yourself and know that things will get better and life will change. A year from now you will not be the same person, but a stronger woman, a wiser woman and a fearless mother. Life is hard, choices are difficult to make, the bottom often drops out and the light at the end of the tunnel seems to get dimmer….but this is just a setback, this is not where you are going.
Your path to a happier life is paved with each brave step you take right now, on this very day.  Give yourself a pat on the back for being a good mom, and remind yourself  "I'm just One More Day Away from Where I Want To Be." Keep up the good work, stay focused on your goals, big or small, take pride in your strength, love your children, and love who you are.
I have always believed, if we truly listen that we learn something new everyday. That day, instead of ignoring another child's behavior, I am so glad I walked over, and with kindness, asked Why?
Article by Laurie Cesario-Overton