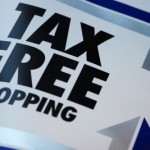 I love shopping online.  I can search for what I want, read reviews, and compare prices.  I also love having my purchases shipped right to me door, especially if the shipping is free.  I'm a big fan of Amazon.com.  I've gotten free shipping and paid no sales tax on my Amazon purchases for years, but that's about to change.
As of now, the free shipping isn't in danger, but the tax-free purchases are coming to an end.  Amazon currently charges sales tax on its sales to residents of Kansas, Kentucky, New York, North Dakota, Texas and Washington.  Pretty soon though, Amazon will be collecting sales tax in many more states.
Amazon will start collecting sales tax on purchases from residents of California and Pennsylvania starting in September, with New Jersey, Virginia, Indiana, Nevada, Tennessee, and South Carolina sales taxes to be added within the next four years.
Not all items will be taxed though.  Only the items that your state normally taxes will be included.  For example, clothing is not taxed in Pennsylvania, so Pennsylvania residents who purchase clothing on Amazon.com will still have a sales tax-free purchase.  However, if they purchase a blender, since Pennsylvania charges sales tax on blenders, Amazon will add the Pennsylvania state sales tax of 6% to the blender purchase.
Now with regard to your finances, there are 2 things for which you may be able to use this information.
You may want to make any planned Amazon purchases now to save money by avoiding paying sales tax if your state will be affected, or you may want to start searching for a comparable online retailer if you decide to no longer shop at Amazon.com.
If you have or buy stocks or options, you may want to think about how this news may affect stock in Amazon.  Do you want to sell your stock because you think this will negatively affect Amazon?  Do you want to buy Amazon stock because you think it will rise?  Do you want to buy options because of how you think this will affect Amazon stock?
As boring and mundane as this may sound, I plan to buy a food processor (since I broke mine a couple days ago) before Amazon starts charging sales tax in my state.  After that, I'll compare prices for other things before making a purchase.  I don't purchase individual stocks or options, and I don't plan to anytime soon., but if I did this would probably be good information to have.
Article by Randi Millward