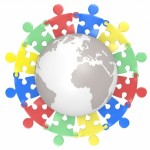 We all have those days when we get overwhelmed and it seems like every time we turn around there is another problem.
Life can be filled with those days. Sometimes the best way to combat that fatigue and drain, is through friendship. I once read that friends are like the windows to your world. I do believe that. You can talk about your troubles, and be heard. You can cry and sigh and be overwhelmed, and they still listen. Family is wonderful too, but sometimes with a good friend you can be your true self. It's about sharing life's experiences and waiting to be asked for advice. It's a heartfelt hug, a shoulder to lean on, a silent moment to share.There is much to be said for friendship. It's the prescription that needs more refills. Women can be strong and resilient, care-givers and care-takers, but we are even better friends.
When you feel alone in your struggles, call a good friend. Let them help you and remember friendship goes both ways. It's a revolving door to one another. Sometimes a word of encouragement from a dear friend might be all you need to tackle the day. It's like having your own cheerleader. If you have a few, good, close friends, then you are blessed. If you need to make a few close friends, then extend your hand first. I truly believe in the phrase, "Treat others as you want to be treated." Friendship is a gift. It needs to be given and appreciated.
How we treat our friends will be observed by our children and setting good examples for them is very important. Healthy people, attract healthy friends. Sometimes we all have to pick ourselves up and dust ourselves off from friends that might be unhealthy for us, or have negative behavior. These are the lessons to pass along to our children.
Embrace your friendships, and remember how important they are in life. A caring sympathizer, a loyal confidant, a true blessing!
Article by Laurie Cesario-Overton