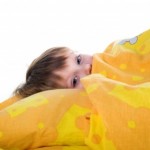 We sleep so that our body rests and recuperates and is ready for another day of activities. Lack of sleep can cause some serious ailments in a person and is the first indicator of poor health. While this sleep is very important in our adult life, it takes on a much more important role in our kids' lives. It is imperative that the children are given a good environment to rest well, without disturbances.
This is the reason why we give children their own room and try and put them to bed on time, so that they are well rested. However, it is quite usual that kids put up a fight when one is trying to put them in bed for a nap or even for the night.
Here are some tips that will help you to conquer this bedtime struggled and help the child to sleep well:
Bedtime ritual - Right from the time a child is born, it will help to stick with some sort of bedtime ritual when putting the child to sleep. As the infant grows the naps will become fewer but these rituals can remain. For the night's sleep, one must follow a pattern where the child washes up, brushes her teeth, changes into her nightwear, is read a story and then the lights are switched off to indicate to the child that it is time for bed. A lot of moms like to play a certain soothing music and this too helps to relax the child and make her sleep easily. The child must be given not only a pattern to follow before her bedtime, but also a defined bed time. Stick with this time and the ritual and you will find that your kid will not put up a fight when going to bed.
Lack of excitement - You cannot expect the child to go to bed when the rest of the house is bustling with excitement. The desire to be part of this excitement is so strong that the child is most likely to fight sleep and you in the hope of staying awake. When putting a child to bed, make sure that there are no attractions that are preventing the baby's mind from resting. Turn off the television, put away the toys and create a dull environment that makes the kid want to go to bed.
Safety haven – Sometimes children will put up a fight to go to bed since they are, or have become scared of sleeping alone, or something in their room does not make them comfortable. This is why is it important that room that your child sleeps in is made out to be a safety haven for the kid. Make sure that everything you put in the room sends out a positive vibe. If the child is comfortable in her room she will be able to sleep well here too.
So keep these tips in mind and you will find that putting the kids to bed will get to be much easier.