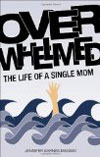 As a homeless, unwed, teen mom, I often wondered if anyone could hear me. Did anyone hear me cry at night? Did anyone hear the screams? Did anyone understand my struggles? Was the pain on the outside of me as loud as it was on the inside? Would we eat tonight or go hungry – again?
Overwhelmed: The Life of a Single Mom was birthed through those very questions. With more than 15 million single moms in the United States, divorce rates sky-rocketing, and more babies born outside of marriage than in, Overwhelmed is a must-read! Statistics support that children from single parent homes are five times more likely to commit suicide and ten times more likely to drop out of high school. Twenty-four percent of single parent homes live in poverty. They are twice as likely as a two-parent home to have some form of abuse. Single mothers across the country are drowning. Where do they turn for help? 
Overwhelmed begins as a page-turning drama of the author's journey through years of sexual abuse, domestic violence, homelessness, and teen pregnancy. It is written with raw, gut-wrenching detail that surely pulls as the reader's heart strings, as the author details her struggle with sexual promiscuity, poverty, and emotional and spiritual brokenness. However, the story doesn't end there. This book is the ultimate, redemptive story of hope, as the author eventually finds financial peace (becoming a successful executive with a large Fortune 500 company), freedom, hope, and love.
Overwhelmed enlightens the single mother in four main areas: parenting alone, finances, emotional stability, and spiritual growth. It looks very openly and genuinely at what works and the practical steps involved to find success in all those areas. It is complete with a 12-part group study, ideal for small group settings. Overwhelmed has sold out on Amazon multiple times since its release just 90 days ago and is selling out in bookstores nationwide. It is being heralded the "….real, raw version of the single parent journey." It has been featured on a number of radio programs, as well as newspapers, magazines, and websites, including Power Women, CBN.com, Family Life, At the Center, Inspired Life, Not Just Talkin' the Talk, ParentLife and coutnless others.
Article by Jennifer Barnes Maggio, author of the book "Overwhelmed",
Buy it from Amazon