Landra Glover's message for SingleMom.com readers:
I was fresh out of undergrad and not fully established when I became a single mom and it changed my life.  My son's father was moving on so it was either sink or swim. I packed my things and moved back to Portland Oregon from Laurel Maryland in hopes that my situation would calm down.  Once I settled in, I made a promise to myself that despite the economy and being a single mom I was going to give my all. As an educated unemployed and single mother-to-be I decided to walk the plank of life.  Was I fearful?  Yes but as my heart pumped a little harder and my hands trembled I continued my journey and before I knew it my heart didn't pumped as hard and my hands didn't tremble as much and I went back to school, volunteered and wholeheartedly invested in my son.  I had to give up certain things and certain people, but my son and I were worth it.  As you all go through your journey of being a single mom, I sincerely believe that you will blossom into the mom you desire to be.   My latest book, The Arms That Are Needed: Daughters Reflect on Fatherly Love, pink and pretty but the interviews inside will take you on a colorful voyage that will change your life.  What's next you ask?  Another book and single moms will be my main ingredient so keep in touch.
Press Release: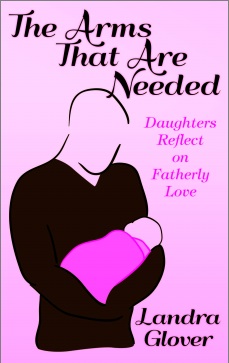 (Portland, Ore.): Portland author Landra Glover has returned from Washington, D.C., where she accepted the Head Start Parent of the Year Award. Now she is back in Portland and will be launching her newest book, The Arms That Are Needed: Daughters Reflect on Fatherly Love, in early May.
Glover has a "commitment to achieve goals… despite all barriers," says Jane Adams, National Head Start Association director of projects and partnerships. "Her community involvement to support and promote positive male involvement make her this year's Head Start Parent of the Year."
Glover has spoken about positive male involvement in children's lives to numerous Portland-area organizations, including Mt. Hood Community College Head Start Program, Healthy Birth Initiative, Talking Drum Bookstore and Portland Community Media's Oregon Voters Digest. She was also featured on KBOO community radio.
Glover's inspiration for being such an advocate is personal. "As an adult, I can now see how not having a father figure in my life played a huge role in everything I do. I love and appreciate my mother, but I still needed and longed for my father," Glover says.
Father figures are also the subject of Glover's book. The Arms That Are Needed includes 37 interviews with women aged 16 to 83 who talk about their relationships with their fathers. They relate everything from their fondest memories of their fathers to whether they've ever felt they didn't need a father. Some women never knew their dads, some chose to sever the relationship, and some warmly admit their fathers are the most important people in their lives. Without being didactic, the book tells us that what children of all ages crave more than anything is love.
"All of the stories in this book are touching and can hit home for almost anyone," wrote one reviewer.
The 164-page trade paperback book is published through Dog Ear Publishing
It is available through BarnesandNoble.com for $14.95.